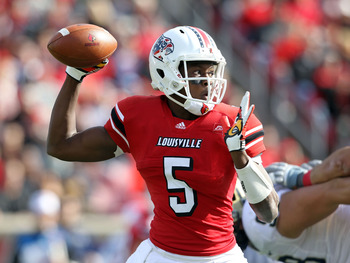 Teddy Rules
*Here's a closer look at the Cardinal QBs
» Bottom line: If the offensive line can protect him, and with the weapons he has surrounding him, Bridgewater is primed for a special season. He's done all that was asked of him during the offseason from a preparation standpoint, and it should pay off on the field.
*UofL non-conference hoops schedule is getting some love from CBSSports.com, with 3 games listed in the Top 25
1. Kentucky at Louisville (Dec. 29)

Two elite teams meet once again, rematch of the Final Four, eternal bragging rights (at least for another year), HoF coaches who can't stand each other. It's not always a pretty watch, but it's compelling TV and the best soap opera in the sport at the moment.
*Vote UofL #1 in the Big East in ESPN's Sports Nation
Poll
*Teddy is stronger and smarter heading into his Sophomore year
"He's taken to heart to increasing his strength and his durability," offensive coordinator Shawn Watson said. "He's a totally different-looking player. He's thicker, but he has not lost — if anything, he's as fast if not faster than what he was."It continued in the film room. Watson had Bridgewater and senior backup quarterback Will Stein watch video clips of the NFL's best, such as New England's Tom Brady. But they also got a heavy dose of the defenses they are most likely to see this season.
*Here's a Big 12 expansion article to get you riled up for the day
"Expansion, or conference alignment overall, will always be on our radar," Bowlsby conceded. "It will be on every agenda that we have going forward just because you can't afford to not think about those kinds of things and consider the options.
*Cody Jones, a walk-on Fullback for UK ran his mouth yesterday with this tweet
@TheCodyJones37 Wish we could fast forward to UL game..tired of seeing all these UL fans on my tl. Ready to shut em up #UKrunsThisState
He then deleted it, came out with some lame "no disrespect to UofL" non-sense tweet, and locked his account.  I wonder if it had to do with Coach Strong following him….so much for UK football's twitter ban.
*LSL will be on the air today at 6:00 on ESPN 680 and ESPNLouisville.com.
Wednesday Morning Musings,
Comments
comments