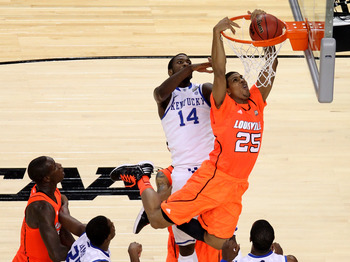 Mike Huguenin of Yahoo! Sports is continuing his terrific off-season countdown of all things "best" and "breakout" regarding the upcoming 2012-2013 college basketball season. While most other national writers are just sitting back and letting news break and then responding, props to Huguenin for actually creating something unique in which to dissect and debate. Yesterday he wrote a column that detailed eight frontcourt players that could be breakout stars next season. Today, he focuses on eight backcourt players that could explode on the scene. Our own Wayne Blackshear makes the cut:
Louisville G/F Wayne Blackshear
Particulars: 6-5/225, Soph.
2011-12 stats: 2.5 ppg
Buzz: Injuries wrecked Blackshear's freshman season; he played in just 15 of the Cardinals' 40 games. But he showed why he was a touted four-star recruit when he scored nine points in just 14 minutes in Louisville's national semifinal loss to Kentucky. Blackshear is both athletic and physical, and when healthy, he is a solid all-around player who can do everything well. And if healthy, it wouldn't be a surprise to see him average in the low teens and even perhaps lead the Cardinals in scoring.
Wayne Blackshear Makes Yahoo! List of Breakout Backcourt Players,
Comments
comments