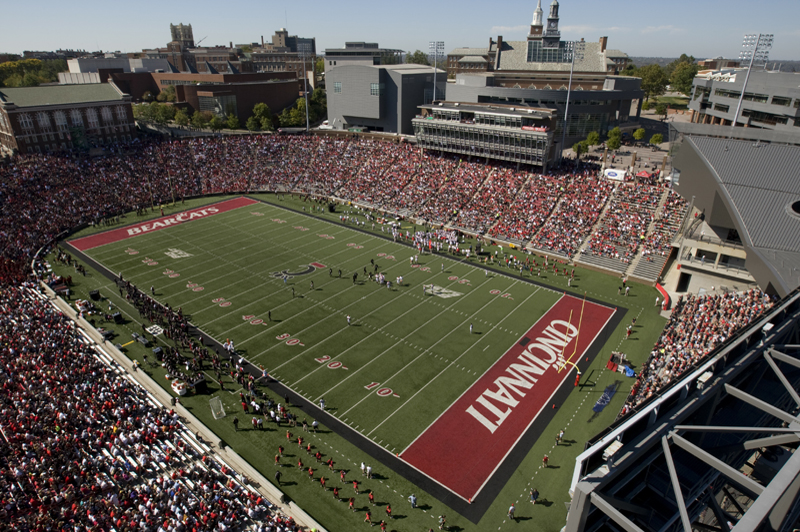 USA Today has just posted an article counting down the best stadiums in the Big East and Cincinnati's Nippert Stadium checks in at #1. Uhhhh, ok. Now my first thought – which wasn't detailed in the piece – is what was the criteria for picking the order? Are we talking historical significance? Size and noise levels? Fan attendance? Amenities? Without a clear and concise outline as to how you came to these conclusions, it's rather difficult to really understand the reasoning here. By the way, Papa John's Cardinal Stadium was third on the list, also behind Rutgers' High Point Solutions Stadium. Here's the deal. I haven't been to every stadium in the conference. Therefore it's hard to properly critique the list. And I don't want to be "fan-guy" that automatically assumes his team should have the #1 everything on every list ever made. However, I have been to Nippert Stadium – multiple times – and while it certainly carries some historical context, it's also a terribly-attended, tiny, out-of-date venue with decent sight-lines at best in many corners of the stadium. Yeah, yeah, Cincy fans like to remind you that it's smack-dab in the middle of campus and because it feels like the stadium could crumble beneath your feet at any given moment, it only adds to the Wrigley Field-esque allure of the stadium. So, in essence, old and crappy, with some historical history-type-history-sh*t, means they should ascend to the top spot. Right, got it.
Look, if you're gonna do this list (no offense to the author) you have to create a set of guidelines. For example, If I were to make such a list, I would take into consideration the following:
– Stadium Appearance (How does it look to the naked eye? In need of construction? Need improvements?)
– Attendance (which stadium has a solid, consistently well-attended set of home games?)
– Amenities (suites? are we talking concrete bleachers or chair back seats? What kind of fod and drinks? Easy to access all seats in the stadium?)
– Atmosphere (sort of a spin-off of attendance, but sometimes smaller stadiums can be louder and larger stadiums can be not-so-loud. Basically, how rowdy is your venue?)
– Proximity to campus (while not vital, I feel like this always gives a more college-like feel to a stadium)
I can be objective here and say that I probably still wouldn't put PJCS at #1. It's not technically on campus (thought it's damn close), some areas of the stadium are hard to access, and while I love our fan base, certain parts of the stadium are not exactly what I would call "rowdy". In case you disagree, come sit over in my section (231) on a random week. You might get asked to sit down if you're a person that likes to stand for the duration of the game. Catch my drift? That said, when it comes to luxury suites, comfortable stadium seating, top-notch amenities and physical appearance, there's none better than PJCS. Again, I've never been to all of the stadiums, and while I am definitely biased, I just can't fathom putting Nippert #1. Been there, seen it, not pretty, with or without the fact that it's old and on campus. Here's the list from USA Today.
1. Cincinnati, Nippert Stadium:Nestled tightly on campus, the conference's smallest stadium is also one of the oldest in the country. The Bearcats are 18-3 since 2008 at their on-campus stadium, though they sometimes play at Paul Brown Stadium, home of the Cincinnati Bengals

2. Rutgers, High Point Solutions Stadium: Formerly "Rutgers Stadium," the Scarlet Knights' home has gotten some big-time upgrades in recent years. And who could forget "Pandemonium in Piscataway!"

3. Louisville, Papa John's Cardinal Stadium: Capacity has gone up in recent years as the stadium has undergone renovations, making it a state-of-the-art facility. The design along the sidelines traps in noise, and when a blackout is in effect for night games, it's an awesome sight.

4. Syracuse, Carrier Dome: One of the only domed stadiums in the nation, the Orange's home is best known for basketball, but it can get real loud during football season in this unique environment.

5. UConn, Rentschler Field: Opened in 2003, the bowl can fill up to some extent, but the fans don't turn up to watch football like they do for UConn basketball. (Rent is under rated and a tough place to win)

6. Pitt, Heinz Field: Another Big East stadium shared with an NFL team, Heinz Field gets better crowds than its counterparts, and its scenic location on the Ohio River makes it a great place to watch a game.

7. USF, Raymond James Stadium: Raymond James is an NFL stadium and it feels like that taking in a game. There have been a handful of memorable moments, but the seas of empty red seats look and feel ridiculous.

8. Temple, Lincoln Financial Field: Home of the Philadelphia Eagles, The Linc, just doesn't get crowds for Temple games. Maybe that will change for Temple's first season in the Big East, but it's more depressing than exciting to take in a game there.
USA Today Names Nippert Stadium Best in Big East; PJCS 3rd,
Comments
comments