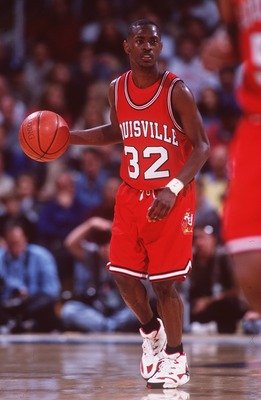 Keeping up with the "Best of" theme, today's conclusion features a countdown of the greatest individual UofL basketball players over the last 25 years. As was the case before, the timeline begins post-1986 championship and runs through last season. In this instance, pro careers will have absolutely no effect on the outcome. This is strictly based on impact at the collegiate level. Hope you guys enjoy, and please feel free to agree / disagree via the comment section below.
15. Tie – Marques Maybin / Kenny Payne: Unfortunately Maybin came to Louisville in a time of transition and was part of the twilight Denny Crum years in which the program fell on hard times. Without him, it's hard to imagine the team even being competitive – particularly his senior year when the Cards went just 12-19 and missed all post-season play. Maybin averaged 13.8 points for his career and shot 45% from the three-point line. He's still remembered to this day for his high-flying dunks and aerial attacks, despite his diminutive stature. Payne was a rock-solid force for the Cards during his four year career which also included a National Championship. Payne averaged 12.5 points and 5 boards a game over his final two seasons as a starter and was part of THREE Metro Conference Championship teams. He would go on to become a first round draft pick of the Philadelphia 76ers in 1989.
14. Felton Spencer: Never a dominate offensive force (8.7 ppg and 5.2 rpg for his career), Spencer came to Louisville as a raw, unfinished project. He had the luxury of going against Pervis Ellison every day in practice and by the time his junior and senior seasons came around, Spencer was ready to break out. He averaged 14.7 ppg and 9 boards his senior year and parlayed that into a long career in the NBA. It was all about those ballerina slippers and ballet for Felton (old-timers will remember that one).
13. Taquan Dean: His legend still looms in this city after he helped break a 19 year Final Four drought at the University of Louisville in 2005. With one of the prettiest and most consistent jump-shots of all time, Dean averaged 15.5 ppg, hit 224 three pointers and shot 42% from behind the three point line during his junior and senior seasons combined.
12. Herbert Crook: One of the most underrated players of the modern UofL era, Crook was a three year starter – including the 1986 Championship team. He averaged 12 points, 6 boards and shot over 50% from the field for his career. As a junior, Crook was named Metro Conference player of the year after averaging 16.1 points, 6.5 rebounds and 3.4 assists per game. He finished his career at Louisville in the top ten of points, rebounds, games played, minutes played, free-throws and free-throw attempts.
11. Samaki Walker: Without a doubt, Walker would have been much higher on this list had he stayed at Louisville another year. Nevertheless, he made his two years count before being drafted 9th overall by Dallas in 1996. He averaged 14.3 points and 7.5 boards for his career and famously posted a triple-double against Kentucky on New Years Day in 1995.
10. Earl Clark: Though he certainly had his up-and-down moments at Louisville, Clark was a force during his sophomore and junior campaigns. He was the most versatile scoring threat and most talented rebounder on one of the best UofL teams of the last 50 years (08′-09′). Over the course of his final two seasons, he averaged 12.6 ppg and 8.4 rpg all while leading his team to a 58-15 record with back-to-back Elite 8 appearances.
9. Dwayne Morton: A versatile, homegrown hero, Dwayne Morton was a personal favorite and all-around solid player during his four year career at Louisville. Part of two Metro Conference Championship teams, Morton would go on to average 15 points and 4 boards for his career and was named the MOP of the 93′ Metro Conference Tournament. Over the course of his final two seasons at UofL, his teams went a combined 50-15 and appeared in back-to-back Sweet 16's.
8. Francisco Garcia: Also a part of the beloved 05′ Final Four team, Garcia left school after his junior year – but not before leaving behind a storied legacy. He was an impossible match-up at 6-7 as he could take defenders off the dribble or kill you from behind the three-point line. Over his final two seasons he averaged 16 ppg and 4.3 rebounds all while leading his team to a combined 53-15 record. He would go on to be drafted by the Sacramento Kings 23rd overall in 2005.
7. Greg Minor: Also one of the most underrated players of the modern UofL era, Minor was an incredible talent and one of the most complete, all-around basketball players to ever come through this program. Part of the vaunted 93-94′ team (with, in my opinion, one of the most talented starting line-up's in Louisville history) Minor was a terror on both ends of the court. That year he averaged 13 points and 6 boards all while shooting over 50% from the field. For his career he averaged 12.6 ppg, 5.6 rpg and shot 50% from the field. He would go on to be selected 25th overall by the Los Angeles Clippers in the 1994 draft.
6. Terrence Williams: Though he was a bit inconsistent over his first two seasons at Louisville, he would go on to become one of the most dominate all-around players in the program's history. Perhaps the most difficult one-on-one match-up in recent memory, he could handle the ball and facilitate the offense, shoot (reasonably well) or control the game on the glass or on the defensive end. Over the course of his final two seasons he led the Cards to a combined 58-15 record with two Elite 8 appearances and a Big East regular season and Tournament Championship all while averaging 12 points, 8.3 rebounds and 4.8 assists. Eventually he was selected 11th overall in the 2009 draft by New Jersey.
5. Reece Gaines: The first Louisville player to average more than 20 points per game for an entire season (21.0 ppg in 2001-2002) since Darrell Griffith did it in 1979-1980, Gaines was an explosive, prolific scorer with incredible size and speed. At 6-6 he could play the 1, 2 or 3, though his crisp ball-handling led him to spend most of his time at the point guard spot. Over his final two seasons he averaged an astounding 19.4 points per game and dished out 4.6 assists per game. He was selected 15th overall by Orlando in the 2003 NBA draft.
4. LaBradford Smith: One of the most legendary Cards to ever wear the uniform, he was a fan favorite from day one with his high-flying dunks and NBA size and skillset. Part of three Metro Conference Regular Season Championships and two Metro Tournament Championships, he was twice named Metro Conference MOP and averaged 13.6 ppg and 5.6 assists for his career. During his senior campaign, he averaged 16 points, 5 assists and 4 rebounds before being drafted 19th overall by the Washington Bullets in the 1991 NBA Draft.
3. Cliff Rozier: It's hard to fully appreciate the magnitude of Rozier's two season's here at Louisville. A transfer from North Carolina, he completely dominated the Metro Conference – and the entire country, for that matter – on his way to cementing his Cardinal legacy. He was back-to-back Metro Conference Player of the year in 1993 and 1994 and Metro Conference Tournament MOP in 94′. During his two years at UofL he averaged 17 points, 11 rebounds and shot nearly 60% from the field. During his junior season in which averaged 18 and 11, he would go on to become a unanimous First Team All-American and was ultimately picked 16th overall by Golden State in the 1994 NBA Draft.
2. Pervis Ellison: With one of the most complete careers in UofL basketball history, no other player had their impact felt from day one quite like Nerver Nervous Pervis. During his freshman season he would help lead the Cards to a National Championship and was ultimately named the MOP of the Final Four. From there his star continued to skyrocket and he would end his career with averages of 15.8 points and 8.4 rebounds all while totaling 374 blocks – a record that still stands today. During his senior year he averaged 18 points, 9 boards and shot 61% from the field while picking up unanimous First Team All-American honors. He was eventually selected as the #1 overall pick by Sacramento in the 1989 NBA Draft.
1. DeJuan Wheat: Another local legend that will hear his name ring out forever in Louisville basketball lore. He was the first player in NCAA Division I history to amass career totals of at least 2,000 points, 450 assists, 300 three-point field goals and 200 steals. He's currently second all-time in scoring at Louisville (2,183 points), third in assists (498) and second in three-point field goals (323). During his senior season he averaged 17.3 points and 4.3 assists en route to All-American honors and an Elite 8 birth. He was eventually selected 52nd overall by the Los Angeles Lakers in the 1997 NBA Draft.
Honorable Mention: David Padgett (injuries hurt his standing), Everick Sullivan (great player, but not quite on the level of these others), Larry O'Bannon (slow start to his career hurt), Preston Knowles (was more of a role player his first three years), Jason Osborne (talent was undeniable, but flamed out far too early), Nate Johnson (four year starter was solid, but didn't have that killer instinct), Alvin Sims (physical specimen, but wasn't quite on the level of names above), Jerry Smith (if he looked like he does now during his UofL playing days, things might have been different).
Top 15 Louisville Basketball Players Of The Last 25 Years,
Comments
comments