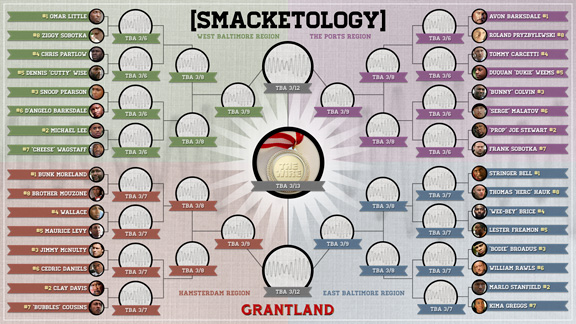 First of all, if you've never seen a single episode of The Wire, none of the following post will make any sense whatsoever. Then again, if you've never watched a single episode of The Wire you're either a communist or you don't enjoy watching smart, gritty, well acted, well written and incredibly realistic television. The indisputable greatest show in TV history still resonates to this day a few years after the series finale, and if you ever have a few days to spare, do yourself a favor and rent season 1. You'll be addicted by the end of the first hour.
Anyway, Bill Simmons' (aka The Sports Guy) website Grantland has decided to bring together two pieces of classic Americana: March Madness and the infinite number of indelible characters from The Wire. Simmons actually did a podcast with President Obama last week and the subject of The Wire and who the greatest character of the show was came up. You can listen to the podcast here or through i-tunes to hear El Prez's answer. Essentially, the site took 32 of the show's most memorable characters and seeded them in an elimination style bracket. The bracket has been placed on Grantland's Facebook page and the fans will vote until a winner is ultimately crowned.
Again, if you've never heard of the show or seen an episode, then none of this will mean a damn thing to you. However if you're a fan of the show, it's a unique and fun concept and it always makes for good conversation.
My favorite character? Pretty simple, really……
'The Wire' Meets March Madness,
Comments
comments