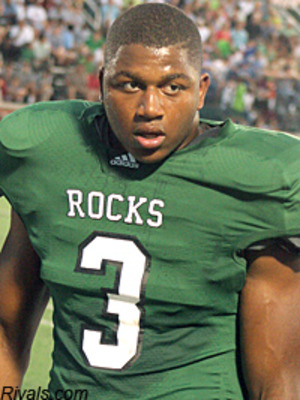 There is always at least one every year, especially in college football.  Once case – or recruitment – that is a head scratcher.  2013's example exists in our own backyard, with Trinity High School's Jason Hatcher.  He was committed to USC months ago and seemed firm in that commitment, even mentioning 'we' while talking about the Trojans during his visit in Los Angeles last week.
This is where it gets a little, well, weird.
On Tuesday, Hatcher announced via his Twitter account that he was de-committing from USC, even using the hashtag #WideOpen.  Additionally, he had cancelled his visit to Florida.  Immediately UofL fans thought those were huge steps in securing his commitment as he was scheduled to visit Louisville's campus the weekend of the 2nd & 3rd.  Things didn't go as planned (as often happens in the recruiting world) as news broke last night about USC assistant coach Ed Orgeron making an in-home visit after waiting for him at Trinity.  Here's a recap of what followed:
-Coach Orgeron makes an in-home visit to Hatcher

-Hatcher reportedly re-commits to Coach Orgeron and Hatcher tells a friend on twitter the same

-News broke that he would visit UofL this weekend because he was no longer going to Gainesville

-Hatcher would confirm to C-J writer Steve Jones he had re-committed to USC, saying only that he would decide on signing day

-Hatcher's mother said he wouldn't be taking anymore visits, thus effectively cancelled in newly scheduled visit to UofL
This all literally came out in a two hour span; confused yet?
We don't know how this will end.  Is this a publicity stunt?  Will he re-schedule a visit to UofL?  If that happens, we like the Cards chances.  We'll keep you posted, if we can keep up.
The Curious Recruitment Case of Jason Hatcher,
Comments
comments