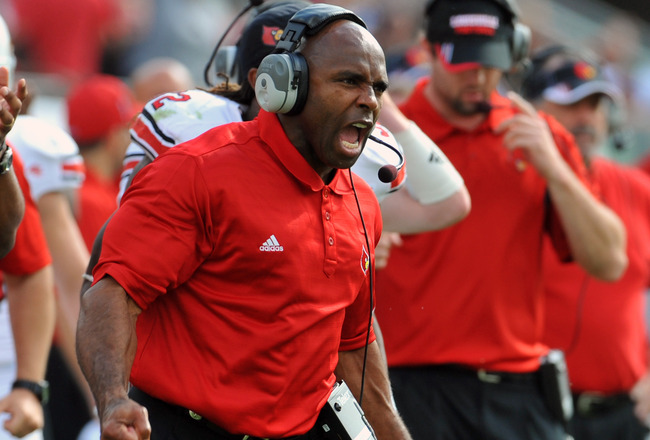 Outstanding piece featured on Grantland.com last night that chronicles the birth of the 3-3-5 defense in college football and how Charlie Strong was one of the early proponents and innovators of the hybrid system. The feature, which is an excerpt from Chris Brown and his book titled The Essential Smart Football, is a detailed navigation through the early stages of an ever-changing world in college football and how a young coach made some necessary – and unorthodox – changes in order to compete with the elite teams in the SEC. The rest of the book features in-depth looks at all angles of the game and it's a must-read for any serious football fans. Here's an excerpt and you can read the entire thing here.
It was early 2000, and Charlie Strong had a problem. Strong, then in his second season as the defensive coordinator for South Carolina, had gone to Columbia, SC to join head coach Lou Holtz in an attempt to resurrect the school's moribund program. Unfortunately, instead of resurrecting anything whatsoever, the team finished an abysmal 0-11 in the pair's first year. Fortunately for Strong, in football, the need for solutions to unique problems often leads to new ideas. In his first year with the Gamecocks, Strong's defense had little luck defending talented SEC squads solely with traditional defensive alignments. In an effort to combat his superior foes, Strong, whose work at South Carolina and later Florida propelled him to his current role as Louisville's head coach, went about trying to find a strategy that was novel, adaptable, and, above all else, would actually work. What he came up with was the 3-3-5 or "30 stack" defense — a defense still in vogue around college football, and one that stood as an important predecessor to the NFL's use of versatile and athletic "hybrid" defenders who have become increasingly valuable despite not being built for traditional roles.

The 3-3-5 defense starts with three down linemen, three true linebackers stacked behind those linemen, and five defensive backs. Those five include three in the traditional mold and two hybrid strong safeties/outside linebackers that can patrol the flats, blitz, stop the run or even cover receivers or tight ends in man coverage. This is just one of several ways the 3-3-5 contrasted with more traditional defensive sets, like the 4-3 (four down linemen and three linebackers) or 3-4 (three down linemen and three linebackers). The result was that in 2000, with its revamped defense (along with a new shotgun spread offense to go with it), South Carolina went 8-4 — including 5-3 in the SEC — and defeated Ohio State in the Outback Bowl.

The attacking 3-3 utilizes a kind of intelligent chaos principle: players are told to attack gaps, stunt, blitz, and "fly around and play football," but each call has a reason. Every blitz, after taking account of the players' assignments and movements, should put the defense in a tried-and-true front designed to stop specific offensive concepts. So if a 3-3-5 coach calls an overload blitz to one side or tells the defensive line to slant one way or the other, it's because the staff has crunched the numbers. They know, for example, that out of this specific formation, the offense runs to that direction 87.6 percent of the time. Put another way, this isn't about aggressiveness at all; it's about creating new defensive fronts in a way that sets a trap for the offense.
The Birth Of The 3-3-5 Defense & Charlie Strong,
Comments
comments