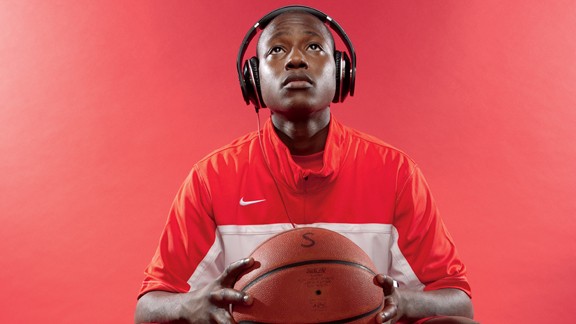 Well, it would not be a true Cardinal offseason without some basketball player eligibity concerns, now, would it? For what seems like the past decade, every offseason from the end of basketball to the beginning of football, there's always one incoming freshman on the basketball team who is in danger of not qualifying. In 2006, there were questions about Earl Clark. In 2007, it was George Goode, who ended up not qualifying. There was little worrying in 2008 and 2009, but in 2010, class headliner Justin Coleman ended up being ineligbile, and Gorgui Dieng was initially declared ineligible before the NCAA rightfully changed its mind. In 2011, there were major concerns about Wayne Blackshear's eligibility, but luckily, the elite SG did what he needed to do and was cleared. He then promptly injured his shoulder, causing him to miss the majority of the season. Not one to be one-upped, incoming freshman Kevin Ware then joined the party when it was announced he was deemed ineligible to play for the first semester (stay away from Brandon Bender, kids). Now, for the 2012 class, incoming point guard Terry Rozier is the one making Cardinal fans restless. A while back, Rick Pitino told Drew Deener that he put Rozier's odds of qualifying at 70-30. Now, according to WDRB's Eric Crawford, Pitino puts those odds at 50-50.
In all honesty, Rozier's chances could not have changed that much from a couple of weeks ago, and this may be just typical Pitino-speak, but whether there is a 70% or 50% chance he makes it, it does not make fans rest any easier. Rozier is a player the Cards could definitely use this season. The last two seasons, Elisha Justice, Russ Smith, and Kevin Ware have all been backups to Peyton Siva at one point. Justice is now gone, and Smith and Ware have proven themselves (Ware according to Pitino's practice reports) more valuable playing the shooting guard/combo guard role. Rozier would be the first true impact point guard Pitino has had to back up Siva. Rozier is still a bit of a project, but would be a valuable backup should Siva ever get in foul trouble or (God forbid) get hurt. He is known for his quickness, athleticism, and above average three point range (the last of which we could desperately use). He seems to have truly embraced Rick Pitino's "Louisville First" ideology through his interviews and is prepared to do whatever it takes to help the team, even if it means learn behind Siva. These are the type of players with great attitudes that are easiest to cheer for and Rozier would almost definitely become a fan favorite.
However, it appears Rozier still has quite the bit of work to do in the classroom if he plans on being in a Louisville uniform this fall. As our pal Mike Rutherford over at Card Chronicle pointed out, there have been eligibility issues before with players, but Pitino has never quite sounded so unsure about whether a recruit will make it or not. So what happens if he doesn't make it? First off, it's obviously not a good thing if he doesn't make it. This team is already loaded, but a quality backup point guard is something we could really use. However, if he doesn't make it, it will not mark the end of the world. Russ Smith as a junior backing up Siva is much more capable of Russ Smith as a freshman doing so. Of course, Russ will continue to take his share of goofy, smack-yourself-in-the head shots and pass up his share of teammates on fast breaks, but he has proven to be a quality, impact player. There will also still be a learning curve for Rozier in Pitino's system, and a junior Russ Smith who understands Pitino and the system is as capable, if not more so, of backing up Siva. It also should be noted that Russ and Siva will have each other to push during practice. It's not like Siva will have it easy in practices. He will still be pushed and become a better player for it.
As far as recruiting goes, the one thing positive we can take away from this is that it will open up a guaranteed starting spot for an incoming freshman if Rozier does not make it. Again, it's not a positive if Rozier doesn't make it, but it does make it more appealing to elite high school point guard recruits like Cat Barber (who, remember, could be a package deal with Troy Williams), Tyler Ennis, and Demetrius Jackson. Of course, it has been quite some time since we've seen a true freshman point guard start for the Cards, and we would of course need a backup for him (possibly Russ again?). Therefore, we would have an extremely talented point guard, but not an experienced one.
Once Siva leaves for greener pastures, it would be nice to have a guy like Rozier there, even if he were not starting. Pitino is recruiting a point guard for 2013 whether or not Rozier makes it, but the effort he is putting forth in finding a point guard does make it seem less than likely Rozier makes it. If that is the case, we will possibly land an elite player to take the reigns from Siva. We will just have to hope he is able to adapt to the system faster than the average Pitino freshman.
Terry Rozier: Will He Make It and What Will It Mean if He Does Not?,
Comments
comments