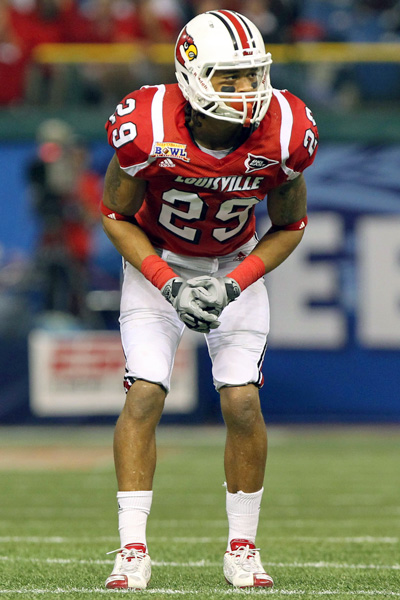 This morning the annual Maxwell Award and Bednarik Award Watch List's were released and three Louisville players made an appearance. Junior QB Teddy Bridgewater was one of 75 players named to the preseason Maxwell Award Watch List which is given out every year to college football's Player of the Year. Senior safety Hakeem Smith and junior safety Calvin Pryor were also both named to the Bednarik Watch List which is comprised of 75 players and is ultimately given out to the nation's top defensive player. Each list will be whittled down to 4 semifinalists on October 29th and the 3 finalists will be announced on November 25th. Bridgewater was named to the Maxwell Watch List last year as well but the award ultimately went to Notre Dame's Manti Te'o who became the first player in NCAA history to win both the Maxwell and Bednarik awards in the same year.
Bridgewater was named the Big East's Offensive Player of the Year and first team All-Big East in 2012 and threw for 3,718 yards (third most in Louisville history) and 27 touchdowns (4th most all-time). He was also named the Most Outstanding Player in the Sugar Bowl after completing 20-32 passes for 266 yards and 2 touchdowns in the Cards' historic win over Florida. Smith started all 13 games as a junior and finished third on the team in tackles (73), recorded 7 pass breakups and was also a huge key in the Sugar Bowl victory by recording 7 tackles and a pass break-up. Pryor finished 2012 as a second team All-Big East selection, was second on the team in tackles with 100, forced a team-high 5 fumbles and had 7 games in which he recorded at least 8 tackles. His interception and fumble recovery in the Rutgers game last year were instrumental in the Cards winning the Big East.
The winners of the 2013 Maxwell and Bednarik Awards will be announced as part of the Home Depot College Football Awards Show held on Dec. 12th. The formal presentations of these awards will be made at the Maxwell Football Club Awards Gala hosted by Harrah's Entertainment Atlantic City on March 7, 2014. The watch list candidates have been chosen by the Maxwell Football Club's selection committee, which analyzes both past performance and future potential. The Club reserves the right to make additions and deletions to these lists as the 2013 season unfolds. All members of the Maxwell Football Club, NCAA sports information directors, FBS head coaches and selected national media are eligible to vote for the awards.
Teddy Bridgewater, Hakeem Smith & Calvin Pryor Receive Preseason Honors,
Comments
comments