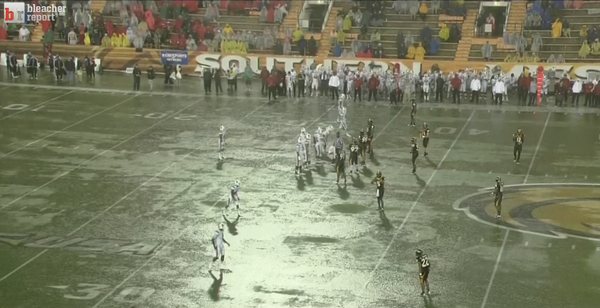 -Before starting on any game or player analysis, I'm going to take this moment to say this to networks like CBS Sports Network, ESPN3, and College Sports TV: do your freaking homework, people. Know who the head coach of a team is. When it happens once, it can be laughed off as just a goof. When it happens multiple times, it is pathetic. Kenny Carter is not Charlie Strong. Pat Moorer is not Charlie Strong. Clint Hurtt is not Charlie Strong. It is called pathetic research and borderline racism. Know who the coach is. Okay, moving on…
-As Brent mentioned, this was a game that is almost impossible to critique because of the conditions. They were simply unplayable. Players were slipping around like they were on ice skates, it was impossible for anyone to plant their feet and make cuts. The conditions were not just unplayable, but were matter of fact dangerous. Starting offensive guard John Miller was injured midway through the first quarter with what appeared to be a somewhat serious lower leg injury. That is not good. Kamran Joyer stepped in and played admirably, but the team is much better when Miller is on the line. Let's hope it is not too serious.
-I understand the playcalling was tough to come by due to the weather, but I was not a fan of some of Shawn Watson's decisions. First off, the pass game was not working. The receivers could not catch anything (more on that later), Bridgewater could barely grip the ball, and the offensive line could barely keep its feet, thus giving subpar protection and making Bridgewater run for his life. The run game was working fine in short yardage situation, but on one series, on a critical 3rd and 1, Watson called a play action in Louisville's own territory. What happened next? Well, the line could not keep its feet, thus gave subpar protection, and Bridgewater was sacked in about a second, resulting in a punt. For a guy whose playcalling has been vanilla most of the season, why in the hell get creative there, in that situation, in those conditions? Makes no sense to me.
-Another slight criticism of Watson I have is the running distribution. Jeremy Wright and Senorise Perry are both great running backs. On this day, though, Perry was clearly the better of the two. He was the hot hand, and not that Wright was bad at all, but Perry was giving us the best chance to win and needed to get the majority of the carries. Wright's fumble did not help, either. Of course, he was in the game when it mattered at the end, and he delivered, so this is really just nit-picking.
-Speaking of Perry, how good is this guy? In conditions that were simply unplayable, he simply said, "Screw that," and just dominated the run game between the tackles. He showed his incredible leg strength to as he would pile on extra yards after contact or being wrapped up by multiple defenders. On a field that it was impossible to plant your feet on, he still looked dominant.
-The conditions were horrible, so this is tough to criticize, especially when I was not on the field playing and therefore have little room to talk, but well…here I go being "that fan." Both teams faced the same conditions, and the Louisville defense in the first half and part of the second half was not wrapping up defenders and letting too many runners bounce off. There were 8 total passes thrown by Southern Miss's QB. There was not a whole lot to confuse the D out there, they just simply missed some plays. It happens, though, especially when there is a monsoon. Same goes with the receivers. Several dropped passes can be excused, but a couple were short lobs that could have or should have been caught (Parker's was one of them). Of course, I was not on that field and have little room to criticize. I have played in those conditions before in high school and catching that ball is like trying to catch an oiled up watermelon. It is hard.
-Brent already tackled this perfectly, so I will simply reiterate: DeAngelo Brown and Keith Brown are studs, were arguably the best players on D that night and are only going to get better. Scary awesome.
-Despite dropping what was a critical pass in the first quarter, it is extremely pleasant to see Devante Parker getting more involved in the pass game. He is too good of a player not to be utilized and his further involvement is going to be huge for this team's postseason aspirations. Charles Gaines and Damian Copeland have been great, but this team needs Parker in order for it to reach its full potential.
-Remember when we all thought the Big East was going to be a bit of breeze once we got past the non-conference schedule and ESPN laughed it off as the biggest joke in college football? Yeah….um….it's not. Like, at all. The Big East is surprising everyone by actually being an impressive football league. It is miles ahead of the ACC (suck it, ESPN) and is better than the Big 10 as well. Do not even try to argue that it is not. Those in the media, and especially the fans, who slobber over the Big 10 will argue it to the day they die, but they are kidding themselves. Having said that, Louisville fans should not be as confident in winning the league outright as they were at the beginning of the year. Rutgers is a huge threat. Cincinnati is a game we should win at home, but one mental slip up, and we will end up with a big, fat L. Pittsburgh is a bit of a mystery, but they are nothing to take lightly. The way this team has played the last two and a half games has been anything but dominant. If we put it all together, this team can still finish undefeated. Yet, it is still very flawed in certain areas and is very beatable. This team will have a loss or two this year if it does not correct these areas fast. A loss or two would not be the end of the world, but this team's aspirations should be BCS or bust, and Rutgers, Cincinnati, Pitt, and even USF are not going to go down lightly.
-Next week is a bye for the Cards and it could not come at a better time. This is still a young team, and their confidence appears to have been shaken the past couple of weeks. There are too many miscues on both sides of the ball, and they are going to need these two weeks to take the time to refresh and correct these mistakes. If this team were on a roll, I would hate seeing a bye week that would pause the momentum, but this team needs it. It will need to come back the following week ready to travel to Pittsburgh with fresh minds, fresh bodies, and have to forget the miscues of the previous weeks.
Southern Miss Notes and Observations,
Comments
comments