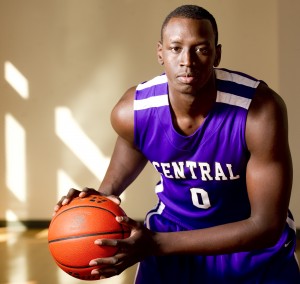 After securing a verbal commitment from highly touted Junior College point guard Chris Jones on Monday, Louisville coach Rick Pitino, who turned 60 years old Tuesday, received a pleasant belated birthday gift Wednesday when top 100 power forward Akoy Agau called to inform him he would be accepting the coach's scholarship offer and will be playing for Louisville in 2013. With the additions of Jones and Agau, Louisville's 2013 recruiting class is now ranked second behind Florida in the ESPN, Scout and 247 Sports class rankings. After a blockbuster class in 2011 and a small, but effective, class in 2012 that included underrated power forward Montrezl Harrell, Pitino has now secured a class that appears set to finish as consensus top 3-5 class in 2013. He is also off to a great start in 2014 with a verbal pledge from elite point guard Quentin Snider and is receiving heavy interest from several other top-ranked prospects. Due to recent recruiting efforts like these, Pitino has established a solid recruiting foundation for the future of the program.
Prior to the commencement of the 2010 college basketball season, Louisville coach Rick Pitino was still wearing the stink of an embarrassing scandal involving extortion and adultery, had discovered the team's two most heralded incoming players (freshman wing Justin Coleman and Memphis shooting guard transfer Roburt Sallie) were ineligible and top returning scorer Jared Swopshire would miss the season with a sports hernia. Another freshman, center Gorgui Dieng, had just been deemed ineligible by the NCAA (a decision that was later overturned) as well. It was a difficult time for the basketball program and its fans, and the sudden resurgence of archrival Kentucky as an elite, top-five program was not making things any easier. That October, Pitino announced the season would be a "bridge year…building something to the future," and fans didn't take to it very kindly. Pitino once said early in his tenure as Louisville coach that the team would never leave the top 10 again once he got things going, and he was now telling fans that the team was in a rebuilding process. The Cards had been bounced from the NCAA Tournament in the first round by California the previous March, which marked the end of an overall disappointing season by a team that never quite seemed to be on the same page. It was later learned that center Samardo Samuels was leaving early for the NBA, a move many felt ill-advised, as he was not projected to be drafted in either round. The 2010-11 season was not exactly shaping up to be anything special, and the only three new members of the team were an extremely raw and underdeveloped center from the Senegal, a two-star unheard-of point guard from New York, and a former two-star transfer (who had sat out the previous season) from Manhattan College whose only claim to fame seemed that he was the younger brother of NBA player JR Smith. Of those three players, neither Gorgui Dieng, Russ Smith, nor Chris Smith seemed to be coming to rescue this team.
Then, in 2010, fans witnessed a pleasant, almost shocking, season. The team, despite having virtually no star power or proven players at the college level, significantly overachieved in the regular season, finishing 12-4 in conference play (4th overall) and was able to reach the Big East Championship game, where the team fell short to All-American guard Kemba Walker and Connecticut. The team looked like they genuinely enjoyed playing together and Pitino looked like he genuinely enjoyed coaching them. After earning a 4-seed in the NCAA Tournament, however, the team once again went down in the first round, this team being upset by 12-seed Morehead State. The heat on Pitino was once again on, but the 2011-12 season gave fans much more to look forward to. For the first time since he arrived at Louisville, Pitino had secured commitments from two highly touted McDonald's All-Americans, power forward Chane Behanan and small forward Wayne Blackshear.
The Cards got off to an incredibly underwhelming start to the 2011-12 season and had to endure several injuries, including the loss of Wayne Blackshear for all of 2011. Fans were frustrated, and many suggested the game had passed up Pitino. Once the Big East Tournament began, however, the Cards looked like a new team. Everyone on the team looked better. Three particular players who continued to stand out were the three players who arrived in 2010. Dieng had become incredibly strong and further skilled on both the offensive and defensive ends of the floor under Pitino. Chris Smith played major minutes and was always stepping up to make big plays in key moments. Russ Smith, while a complete boom-or-bust type of player, showed he was capable of taking over any game with his scoring abilities (or taking us out of a game with his careless mistakes) and refused to be intimidated by anyone. The recruiting class fans once scoffed at had suddenly become key members of what would eventually be a final four run. What was unique about these players that seemed to be somewhat absent in years past was a team-first mentality. All the players genuinely seemed to get along, all seemed to respect and admire Pitino's way of doing things, and no one (with the exception of Russ at times) cared about individual stats more than the success of the team.
Perhaps Pitino had been making the mistake of recruiting players who were more talented than they were coachable before he made the "bridge year" comment. Perhaps he was not recruiting the players built for his style of play or coaching. While both were good players for Louisville, Terrence Jennings and Samardo Samuels both struggled in several areas under Pitino. While both were 5-star talents, neither really flourished under Pitino. Gorgui Dieng, on the other hand, helped lead Louisville to a Final Four. Maybe players like Dieng made Pitino reevaluate how he recruited. Dieng was a good, humble kid who was willing to learn the game any way he could. Since then, it appears he has recruited kids who do not see college as simply a checkoff point before going to the NBA, but kids who want to learn the game and play to win. He wants kids who want to play for Louisville with pride. Players like Terry Rozier, Anton Gill, and Akoy Agau all represent that type of recruit in one way or another. Players like Luke Hancock and Chris Jones will be talented leaders who were brought in for their veteran experience just as much as their talent.
With an impressive class lined up, Pitino may be done recruiting for 2013. Only three players will be leaving (Siva, Mike Marra, and Stephan Van Treese), and he has four players committed. Chances are high that Dieng will end up going pro after this season as he is projected in the top 20 by at least one mock draft service (NBADraft.net), and if he has a year that many are expecting, he will only improve his position. If a player like Wayne Blackshear, Chane Behanan, or even Kevin Ware breaks out, it could open up another spot (or multiple spots), so Pitino will still be keeping his eye on several 2013 recruits (along with several 2014 recruits as well). The coach has found a new urgency in recruiting, and those who had questioned whether or not he still had it in him are now picking feathers out of their teeth from eating so much crow. From the classes of 2011, 2012, and now 2013 and what appears to be shaping up as another fantastic recruiting class in 2014, the coach will have the Cards staying in the national championship hunt for years to come. In other words, it'll be a while before another "bridge year."
Solid Recruiting Has Cards Well Equipped for Future,
Comments
comments