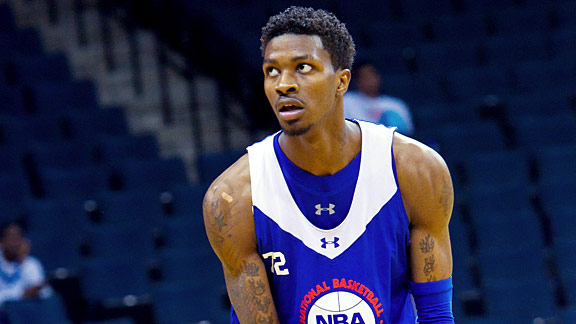 Chris Walker was dominant this weekend at the Adidas Invitational
This past Sunday saw the conclusion of yet another huge event on the AAU circuit as the Adidas Invitational in Indianapolis once again displayed some of the top talent in the nation. As previously noted here, the Louisville Magic captured yet another prestigious title as they took the 16-U group in dominating fashion. Led by Louisville commitment Quentin Snider and Louisville prospect D'Angelo Russell, the Magic continued their unparalleled dominance in their age group. In the 17-U age group, it was Florida Elite that took the title after getting huge performances from 2013 Louisville prospect Chris Walker. 247 Sports senior recruiting analyst Jerry Meyer was on hand all weekend and just released a list of some of the Top Performers from the camp, and to no one's surprise, Walker, Russell and Snider all made the cut.
Chris Walker (2013 power forward, Florida Elite)

Walker still has a ways to go on the offensive end, but regardless, his athleticism and energy make him an elite force around the basket as a defender and rebounder. If he develops a reliable offensive game, look out. If he doesn't, he still has a niche he can fill at the highest level of the game.

Shane Hall (2014 power forward, Louisville Magic 16-U)

D'Angelo Russell and Quentin Snider are the headline performers for the Louisville Magic, but it is questionable whether or not they win the 16-U championship without the interior play of Shane Hall.

With explosive jumping ability at 6-foot-8, Hall played with toughness and intelligence against the athletic frontline of Team Thad. Not only did he stabilize the interior for the Louisville Magic, he was actually the best interior player in the championship game. His defense and rebounding were outstanding, but he also made some plays handling the ball in transition and scored 14 points in the game.

So far, he has offers from Miami, UAB and Northern Kentucky with interest from Indiana, Virginia Tech and Tennessee, but his recruitment is on the verge of truly blowing up.

D'Angelo Russell (2014 combo guard, Louisville Magic 16-U)

Russell has a uniquely composed style of play and a special feel for the game. He is a killer from the midrange, a more than reliable long-range shooter and a gifted finisher in transition.

Rarely if ever does he get speed up with the ball and knows when and how to deliver the ball to teammates. He also has an understanding of how to move without the basketball.

Quentin Snider (2014 point guard, Louisville Magic 16-U)

Snider, a Louisville commitment, had a terrific championship game. He was strong with the ball and made good decisions against the defensive pressure of Team Thad, and he finished some tough shots on the move. He isn't the most physically imposing player, but he is a catalyst for a winning formula.
Several Louisville Targets Among 'Top Performers' At Adidas Invitational,
Comments
comments