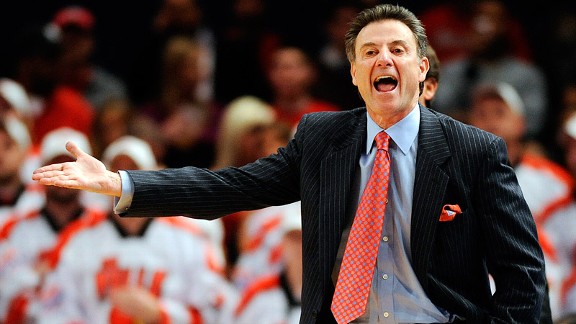 I would normally say that Rick listened and heard what I said yesterday (regarding some player inquiries and a prophetic new blog update) but apparently his inner-circle is more consumed with Card Chronicle (principal's office, Mike). But in all seriousness, Rick did update his blog with some political pontifications, a look at his daily schedule, what college college coaches should stay away from as well as a few actual player updates. Here's a quick excerpt and you can the entire entry over at www.rickpitino.com.
Schedule – We had the second toughest schedule in the nation last year.  This season is much more difficult.

Polls – Only matters early on in football, not hoops.

Things Coach's should never do:

1)   Judge freshman bigs – Some need time and develop late.

2)   Judge players by individual instruction – It is to teach proper fundamentals, but it's a mistake to judge who is playing well.

For Example:

-Jared Swopshire would put on a clinic with his footwork and moves.

-Russ Smith- After watching an individual workout, you would believe he would never get any minutes.

3) Take guarantee games just to make money. The administration at Savannah State should be held accountable for subjecting their athletes to such mismatches. Oklahoma St. 80, Savannah State 0. This week they play Florida State and they are a 70 point underdog. Surely money cannot be that important. The welfare of their athletes must come first. There are no lessons that are being taught. In basketball, coaches play their benches early with mismatches. In football they run it up to move higher in the polls.

4) Recruit athletes without passion.  Passion leads to a strong work ethic.  A strong work ethic leads to improvement.

5) Pay attention to social media.  Anyone can be a critic.  Anyone can be an expert.  Anyone can have an opinion.  Insulate from all that is being said.  It serves no purpose positively or negatively.  It is banned from our meetings!

Areas we are focusing on the most:

1)   Nutrition – A major key to conditioning. Very underrated in training to be physically fit.  It's our fuel that makes our engine roar.  More emphasis this year with this on what we put into our bodies.

2)   Defensive closeouts – Almost cost us the Final Four against Florida.

3)   Passing – Turnovers were our Achilles heel last year.

4)   Shooting technique – Peyton and Kevin Ware have made the biggest strides.

Players Improving

*Angel Nunez – Has skills that can really help us.  He just has to let the game come to him

*Chane Behanan – Has improved his defensive skills. Really needed!

*Wayne Blackshear – Never been in great condition.  Terrific understanding of how to use his body around the rim.  Once his conditioning gets to the Louisville level,  watch out!

*Gorgui Dieng – Stronger and smarter.

*Montrezl & Mangok – Want to see them away from individuals to see where they stand

*Luke Hancock and Mike Marra are back to work. Contact on October 1st.
Rick Pitino's Latest Blog Entry,
Comments
comments