Russ was a one-man scoring machine in the first half
*The Cards acted like the nation's #1 team in the second half, clamping down on defense and getting out in transition on offense
*Russ ended his slump, keeping the Cards in the game in the first half with 15 points, and finished with 23
*Gorgui had 16 rebounds to go along with 6 points
*Chane Behanan was extremely patient – got the ball only three times in the first half – and closed out the second frame with aggressive play en route to a 16-point, 9-rebound, 5-assist performance.  He should have had 20 tonight, but he missed two dunks.
*Committing stupid fouls is the ONLY thing holding Siva back right now.  As soon as the second half started and he was on the floor, the Cards were a different, and dominant, team. Peyton had 11 points along with 4 assists.  He must be smarter with his aggressiveness because the team needs him on the floor.
*Hancock scored 8 points, the only scoring from the bench this evening.
*The Cards shot 50% from the field (29-58); 31% from 3 (4-13) , and 71% from the FT line (11-15)
*Louisville won the battle of the boards, 33-25
*UofL's suffocating defense kept UConn shooting just 40% from the field and forced the Huskies into 16 turnovers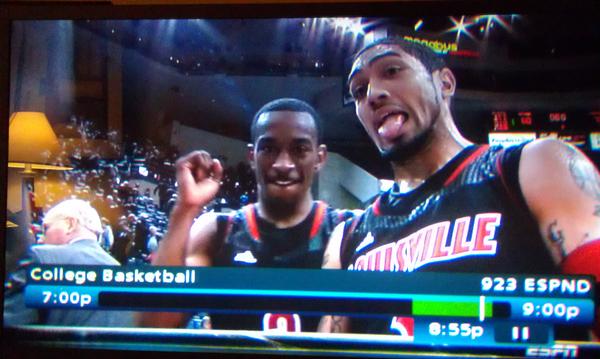 The nation's best backcourt is ready to party….
Quick Hitters: #1 Cards Soar Past Huskies in the Second Half,
Comments
comments