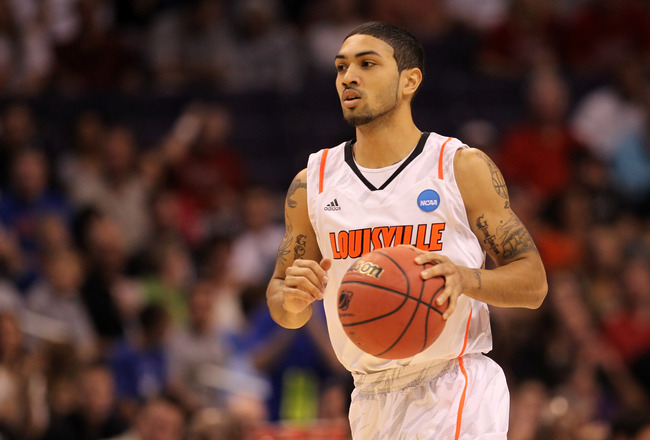 Upon first glance my initial response was: "Is this a good thing? Like, whatsoever?" After all, Sosa certainly marched to the sound of whatever beat was heard in his head, and at times, that beat turned into a self-detonating explosion of noise in which predicting a positive result was a useless exercise. But I always liked Edgar, personally. I know he had his critics – and rightfully so – but I always felt like he had the heart of a champion no matter if his head was in the right place or not. He loved the University of Louisville and although he had a rocky relationship with Rick Pitino at times, he became a solid player and I can envision him perhaps one day cracking an NBA roster for a short stint or two. But back to the topic at hand, and that's Sosa becoming a mentor (of sorts) for current Louisville point guard and senior-to-be, Peyton Siva. ESPN's Eamonn Brennan and the Courier's C.L. Brown both write about the relationship between the two players and how some helpful advice passed down from the elder Sosa could be the turning point for the younger Siva. Here's a few excerpts and you can read the entire columns here and here.
"Edgar had been in my situation before, and I trust Edgar a lot. He gave me some great advice. He told me just finish it out," Siva said. "I really look up to him. He's been through the process and everything, and I really took his advice to heart."

Sosa wasn't the lone voice guiding Siva. He listened to U of L coach Rick Pitino give essentially the same speech that he gave Terrence Williams four years ago. Pitino told Siva he could be a second-round pick if he came out this year. Or Siva could work on his jump shot, return for his senior year and improve his draft value.

"I've seen other people make the same decision and decide to leave early, and it really didn't work for them," Siva said. "… It worked out for T-Will; unfortunately it didn't work out for Terrence (Jennings) or Samardo (Samuels) when they left early. I felt it was best to come back. I love Louisville and I love the team."
But let's be honest: Siva really isn't in that position, because his chances of earning a spot on an NBA roster this summer were always pretty slim. For all of his strengths (defense, speed, transition passing), this is still a 5-foot-11 player who shot 24.6 percent from 3 in 2012 and just 0.686 points per possession on his 210 possessions in the high pick and roll, according to Synergy Sports scouting data. If there are two things undersized NBA point guards have to do (word to Ty Lawson), it is a) shoot the 3 and b) score out of the pick and roll. Siva did neither particularly well last season. His offense — offensive rating: 91.9 — labored as a result.

Rather than throw himself at the mercy of a few months of evaluation, Siva now has a chance to spend all summer in Louisville's facilities, working on one of the few things (shooting) players can actively improve in their offseasons. There is always a whiff of lost upside to players, particularly veterans, who decide to stay in college for one more season. But in Siva's case, all the upside lies with another year at Louisville — both for his team and as a future NBA hopeful.
Peyton Siva Receiving Advice & Guidance From Edgar Sosa,
Comments
comments