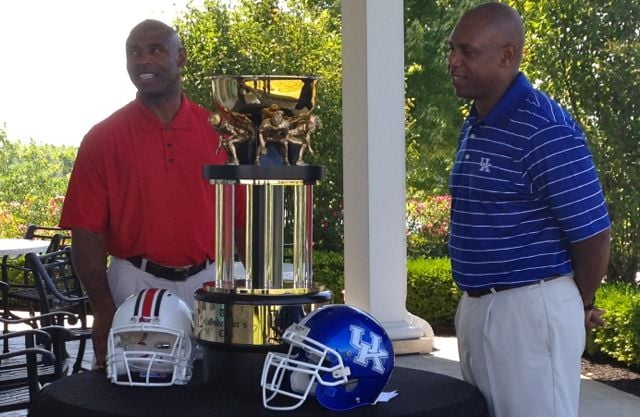 -Before going into U of L analysis, I am going to tip my hat to UK and Joker Phillips. The fact of the matter is that U of L is simply a better football team and will be for the forseeable future. However, this team came in and played to win. There was not an ounce of quit in them, and despite being overmatched, they kept on pounding. Maxwell Smith is so much better than Morgan Newton (he is to UK what Jamarcus Russell was to the Raiders), it is not even funny. He played sharp, poised, and confidently. CoShik Williams, despite having two costly fumbles, ran the ball well, too. Have it not been for careless turnovers, the Cats could have been in this game. Joker's decision to go for the onside kick to open the second half showed mucho cajones and it paid off. Props to the team and coach for a solid all-around effort.
-On to the game itself. Let's start with the crowd. Despite ominous weather (that never did hit us), Cards fans showed up in full force, packing the stadium. For a game that was on national television, this was much needed, and I am very proud of the Cardinal faithful. They scooped up the tickets sent back by UK fans quickly as possible. The ESPN announcers brought up this point, ripping on the UK fans a bit, saying you don't see tickets being sent back in rivalries like Ohio State-Michigan or Alabama-Auburn. The crowd was a bit rowdy, as well. One UK fan in my section got kicked out for running his mouth and shouting, "Mind yo' mother(blank)in' business!" every time someone told him to shut up. He was wearing a flat bill and had a line beard, which is interesting, because I was always told this was a U of L thing. However, as fun as it is to poke fun at Cat fans, U of L fans had their own, including the loud frat guy in front of me swigging a flask of gin, or the fan after the game who got in a fight with a UK fan in the bathroom(not sure who started it).
-Nothing more can be said about Teddy that Brent did not already touch on. He was simply phenomenal, completing 90% of his passes in tight windows over and over again. It was a thing of beauty as he spread the ball out to 9 different receivers throughout the game. There is no doubt now just how great a quarterback he will be. An interesting note I came across while watching the game is that, according to ESPN's Jemele Hill, Bridgewater was closer to committing to LSU than we all thought after de-committing from Miami, and actually thought he would play wide receiver in college. He had never been to Louisville, and was afraid when he got there, it would be all bluegrass and horsehay, and was relieved when it was they type of place he was used to. Rod Gilmore even compared him to Peyton Manning and Andrew Luck the way he studies the game and audibles at the line of scrimmage. That may be a SLIGHT exaggeration, but good to hear about our star QB nonetheless. I do not think he could have had a better opening, driving the ball 99 yards for an eventual touchdown, that would get him the respect he deserves on a national scale.
-All the wide receivers played great. Andrell Smith made an outstanding leaping catch over the middle and the first pass completed to Damian Copeland from Bridgewater was perfect. Speaking of Copeland, he showed he is not just a practice superstar, as he ran great routes and made big plays. One receiver not on the field or the sidelines was Charles Gaines. When news broke that Strong would address his situation after the game, I immediately feared the worst, that he had been dismissed from the team. However, he shot that down today at his press conference, when he announced that he would be back next week, and he just thought he did not deserve to play. He did not list any reasons, so jump to your own conclusions, but it is a bit of a relief to know he is still on the team.
-I am really starting to like my prediction of Senorise Perry being a breakout candidate. He played simply great in his first game as one of the primary ball carriers. He was touched only once on his 47-yard touchdown run as he bounced off a defender who was being blocked. Rod Gilmore joked (?) that he thought the defense had their eyes closed, as Perry appeared to have reached the endzone in about 3 seconds. He is definitely not someone who will be easy to catch in the open field. He also showed he has pretty significant power as well. On a screen pass in the 2nd quarter, he dragged about 4 defenders around 8 yards for a first down. Jeremy Wright looked just as good, as both running backs surpassed 100 yards rushing for the game. Playing without their leading returning rusher in Dominique Brown (out with a minor injury), the running game did not lose a beat and just ran all over the UK defense.
-It is impossible to praise the running game without giving props to the offensive line. They were fantastic, giving Bridgewater plenty of time to throw and opening up huge holes for the run game. On Wright's second TD run, OG John Miller just abused his defender, opening up a major seam where Wright could have just backpedaled into the endzone. If this line stays healthy, both the pass and run game will be very fun to watch.
-While there is not a lot to complain about in regards to the offense (Shawn Watson > Mike Sanford, by the way), the defense is another story. UK deserves credit here as well, but during the first half, the front 7 of the Cards were not putting any pressure on the QB, and UK was allowed to get away with the same bubble screen play time after team. Adjustments were clearly made at halftime, as the unit came out in the second half with a lot more intensity, but there is still plenty of work to be done. Charlie was clearly not happy with the defensive performance, and while it is definitely nothing to panic over, it is definitely an area that needs to improve. The first touchdown by UK was actually a savvy play call. Just a little play action pass to the tight end, but it fooled the hell out of DB Champ Lee. The second TD looked like it was just lazy defense, as it was late in the game and the Cards had a 32-7 lead. The D looked a bit sluggish at times, but the guys are definitely not afraid to hit people, as players like Lorenzo Mauldin and BJ Dubose delivered some bonecrunching hits.
-It was interesting to see that James Burgess, Jr. seemed to be the one to get the most playing time out of the freshmen group of linebackers including Keith Brown and Nick Dawson, who were much more highly touted. Burgess played well while he was on the field, and while still a bit undersized, he can flat out hit people. I would expect to see more of Brown and Dawson next week.
-Another problem area for the Cards was once again on special teams, particularly in regards to punt returns. It was a problem for the Cards last year, and it was not pretty yesterday. The first return of the season went to Kai Dominguez, who tried to field a bouncing punt that he should have just moved away from. As a result, he fumbled the return, nearly giving UK possession inside the U of L 5-yard line. Luckily, the ball was recovered by the Cards and Dominguez did not go out to return punts again. That duty went to Scott Radcliff, who nearly lost a punt, as he jumped for it and even bobbled it a bit. It got my heart racing a bit, that's for sure. The kickoff coverage was a bit lacking as well, as UK returned a number of kicks deeper than they should have. It is definitely an area that needs to be addressed.
-The most disappointing aspect of the game for me was Strong's decision to slam the brakes on a potential blowout by putting in Will Stein in the 3rd quarter. This is a game I wanted to not just win, but dominate. After all the trash talking UK players and fans were doing the past few weeks, along with their actions during the Final Four, no fanbase deserved a beatdown like UK. However, I do understand the respect and admiration Strong has for Phillips, and in a way, was very honorable. However, playing in the Big East, especially without West Virginia, in order to get national respect, this team needs to really stand out. A game like this could be the difference in the Orange Bowl and the Sugar Bowl. I thought for sure he would be going for the throat when on the first touchdown he elected to go for 2. That was not the case, obviously. The decision also nearly allowed UK back in the game, although they played themselves back out of it with fumbles in the red zone. A blowout win over an SEC team (even Kentucky) would look very good on a resume, and Strong's decision to take the foot off the pedal was honorable, but it will be interesting to see if it ends up costly. For now, I will say now and that this is just an overreaction, but you never know.
-While we all likely wanted to see a blowout, the fans booing Will Stein when he came into the game ought to be ashamed of themselves. Was he great? No, far from it. Was Bridgewater hurt? No. There seemed to be no real reason Stein was in the game other than to get him reps, and honestly, although I wanted to see Bridgewater, Stein deserved to be in there. He is an outstanding and humble team leader who always does what is asked of him without complaining. He is a senior in his final year at U of L, and maybe Coach Strong wanted to give him more than just a kneel down on the final series. He has put in his time and while yes, it was a frustrating moment for Cards fans who wanted to see the foot on the pedal, it was a moment Stein deserved to have. And people were booing him. Grow up.
-After the game was over, murmurs began again from the other side whether or not the rivalry should be continued, as it does not do UK any good, and with two more conference games now, they may need to schedule some cupcakes in order to increase their bowl chances. Yet, it's funny they are okay to give up the football rivalry but not basketball. If the rivalry were to end, it would have to end for all sports, and that should and will not happen. Yet, as a counterargument, would it really be the worst thing to discontinue the rivalry? Whatever anyone tries to say, the large majority of fans have absolutely no respect for the other side. Especially in the age of social media, the rivalry is no longer fun for many and has gone from competitive to being flat out hateful. Fans of both sides (myself included) have said things about or to the other side that are ignorant and would be better off left unsaid. Whether it is fueled by alchohol, adrenaline, or neither, fans are getting out of hand. Yesterday, seeing the fights and trash talk, it makes me think maybe it would not be the worst thing to put a stop to it all. Then again, the rivalry is too traditional and to remove it would be nearly the same as removing a national holiday for many in the state. It is still a very fun event for many others, especially those who do not take the game as seriously as religion, and it would not be fair to let a few bad apples on both sides ruin the rivalry.
-The last note I will make is this: football is officially back and this team looks as good as advertised. While tweaks need to be made in several areas, this team appears fully capable of winning every game on its schedule. Go Cards!
Notes and Observations from the Governor's Cup,
Comments
comments