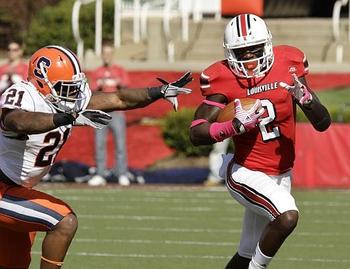 Reports surfaced tonight that University of Louisville redshirt sophomore wide receiver Michaelee Harris has injured his knee yet again, and while the severity is still unknown at this point, it does not sound good. It appears that the talented and promising young wide receiver could miss his second full season in three years at Louisville. This is absolutely horrible news for Harris, who has suffered four serious knee injuries since he arrived at Louisville. He worked so hard to come back from the first one and ended up making 37 catches for 455 yards in his redshirt freshman campaign (good for second on the team in both categories). Yet, as good as he played last year, he was never 100% healthy, and he then suffered a torn ACL that led him to miss the Belk Bowl and all of the following offseason activities. This latest injury is almost too much to bear. As I stated in my wide receiver breakdown piece, how Harris would come back after the series of knee injuries he had at such a young stage was a major concern for me. It appeared my concerns were justified. This may not be just a season-ending injury for Harris, but a career altering one. Many fans, writers, and analysts alike will want to jump right into football discussion and talk about the talent-heavy depth Louisville has at the wide receiver position, and while losing such a significant player will hurt, they have the depth to help alleviate the loss. Yet, how many people will sit down and write or talk about just how awful this must be for Harris? For someone so young, so talented, and so hard-working, having a season ripped away yet again must be excruciating, especially after how much he risked in coming to Louisville in the first place.
Harris was apart of Charlie Strong's first recruiting class at Louisville, a class that turned out to be filled with several talented prospects. That class was the first thing to ignite excitement into the fan base in over three years. To beat a dead horse here, the previous coaching regime was a disaster. The coaches had no respect from anyone, the players seemed to play apathetically at best, and the fans went from disgusted to flat out not caring anymore as they quit showing up for games. When Tom Jurich made the decision he had to make and fired Steve Kragthorpe, he made the home run hire of Charlie Strong. Needless to say, Strong was not exactly walking into a gold mine. His coaching pedigree and history at Florida would no doubt land some talented prospects eventually, but what could he sell them on right now? Come to a program that was a national contender four years ago? The recruiting of the previous staff was arguably as disastrous as the on-field product and when Strong arrived, fans were happy to just see that HIGH SCHOOL players were interested rather than just Junior College players. Strong had a lot of needs to fill position-wise and could not exactly promise BCS or national championship possibilities at that point. Michaelee Harris had been on Louisville's prospect list for some time, it seemed, but it was tough to believe he would seriously consider coming here. After all, even if Strong could pull off a recruiting coup in his first year, most would expect it to be a defensive player, as Strong is a defensive coach. Perhaps the offensvie talent would come down the road. Yet, Strong proved just how respected he was in the state of Florida, as Miami native Harris shocked the fans in December of 2009 when he announced he would attend Louisville and play for Charlie Strong.
He was the first legitimate, elite recruit to commit to Louisville since the Bobby Petrino era (unless you count Woodny Turrenne or Willie Williams…please don't). Watching his highlight films, he stuck out immediately as the type of player this team needed. He was fast, ran great routes, made great catches, and just looked like he loved playing the game. He would talk smack to opponents and build up his teammates. He brought a swagger to the team that was non-existent in the three previous years. He was a highly rated four-star prospect who had offers from schools like Miami, Ole Miss, Tennessee, West Virginia, Nebraska, and others. He had options. Yet, he chose Louisville. He chose to play for a rookie head coach with a defensive background on a team that was the epitome of sub-mediocrity the past three seasons with no proven quarterback to throw him balls. That is called taking a risk. There was no real reason for him to come to Louisville other than the possibility of immediate playing time, and he decided to put his faith in the new coaching staff. It is important to note that no other big time recruits had committed at that time. Sure, everyone saw that Corvin Lamb was a steal, but he was not considered "big time" as Scout.com had rated him as just a two-star prospect. Devante Parker and DeMarcus Smith had also pledged their allegiance to Strong and his staff, but they were both just juniors and grew up Louisville fans, too. It was not a huge shock to see them commit. In deciding on a college, many recruits, especially the elite ones, like to know that other elite recruits will be joining them before committing anywhere, and Harris had no guarantee of that happening. Yet, he still committed. On national signing day of that year, rumors were spreading that he would decommit and instead play for Central Florida, but he ended up staying true to his word. It was only after Harris committed that other highly sought-after recruits like BJ Butler, Marcus Smith (not big time, exactly, but had an offer from Florida), DeAntre Rhodes, Preston Brown, and Dominique Brown committed as well. Harris was the one who set the trend, and that trend continued into the following class, which included highly regarded recruits like five-star quarterback Teddy Bridgewater (Harris' former high school quarterback), defensive ends BJ Dubose and Lorenzo Mauldin, receviers Eli Rogers and Charles Gaines, and defensive backs Andrew Johnson and Gerod Holliman. Those are just a few of the highly regarded names that followed Harris' lead.
The coaching staff deserves the credit for getting guys like Harris and co. to play for Louisville, as at the time, it was a very hard sell. Yet, Harris was the recruit who got the ball rolling, and he did not have to be. Had it not been him, someone else likely would have, but it was him, and his friends and those who knew him saw that he committed and decided to check Louisville out themselves. Having Harris on the team was definitely instrumental in landing Bridgewater. He has been getting compliments from those who have watched practices this offseason, as even though he could not always participate, he was talking to and cheering on his teammates as well as giving out advice to the younger receivers. He could have been bitter and pouted, and after all he had been through, who could really blame him? He decided to stay positive instead and support his team.
It is still unknown just how severe Harris' knee injury is, but in the event it hinders or completely ends his career, he should be remembered and respected. If the Charlie Strong era continues to progress at the rate we are seeing, and we potentially move to a better conference that will attract more recruits, it should be remembered that Harris committed to play for Louisville when it was not the cool thing to do. It should be remembered that he committed when the program had very little to offer. He deserves to play, and it is just not fair that he cannot. It is, howeer, not out of the realm of possibility Harris could come back from this. He came back from a serious knee injury before, and as Peyton Manning showed by coming back to play after four NECK surgeries, anything is possible in football. Yet, for a player so young to have all this happen in such a short amount of time, it will be incredibly difficult. After all this, Harris may never go down as one of the Cardinal greats or have his jersey retired in a ceremony at Papa John's Cardinal Stadium, but it should never be forgotten that he was the one recruit who got the ball rolling in regards to top-level talent coming to Louisville. It was not Keith Brown, Nick Dawson, Dominique Brown, Gerod Holliman, BJ Butler, nor was it Teddy Bridgewater. It was Michaelee Harris. People need to remember that.
Michaelee Harris Re-Injures Knee; Season Possibly Over,
Comments
comments