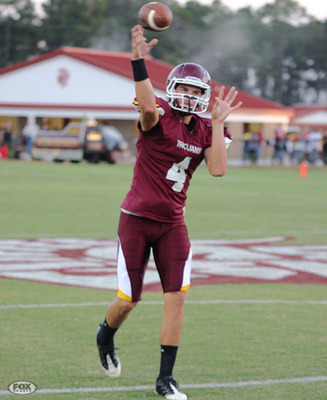 The Louisville staff received crushing news yesterday as recent star QB commitment Will Gardner has indeed torn the ACL in his right knee and will miss the remainder of his senior season. Gardner and his family spoke with the Cardinal staff shortly after the game last Friday night and they were reassured that nothing will change and that they're still sticking with him. It's tough to find a positive in this, but Gardner will have plenty of time to rehab his knee and get healthy for the 2012 season at UofL. There's also a solid chance that he'll redshirt next year which would give him more reassurance that there's no need to rush things and return to the field prematurely.
One of Georgia's top quarterbacks will miss the rest of his senior year after suffering a knee injury in the season-opener.

Will Gardner, who has committed to Louisville, torn the ACL in his right knee in Coffee High School's win over Brunswick last Friday. An MRI confirmed the injury on Monday.

"It was heartbreaking because Will really worked his tail off; he was phenomenal," Coffee coach Ken Eldridge said. "He's such a great kid, like a son to me. He was devastated by the news, as was our team. We're really hurting for him."

The 6-foot-5, 214-pound Gardner committed to Louisville over Alabama and Mississippi State last month. Eldridge talked to Louisville's coaches on Monday and was told that they are sticking by the college scholarship offer. "He's still their guy," Eldridge said.
*Follow me on Twitter @BrentLSL and through the site's account @Lvillesprtslive
Comments
comments