(He will drill this every time)
It was a tale of two halves yesterday afternoon as the #2 ranked Louisville Cardinals took on former assistant Steve Massiello's Manhattan Jaspers in the first regular season matchup of the year for the Cards. The Jaspers were playing without their star player, George Beamon, and the Cards were expected to throttle the visiting team. While the Cards did win convincingly, and while they definitely looked better than they had against Bellarmine, there is still plenty of room for improvement left for a team that is expected to once again cut down nets in April.
THE GOOD
Defense. The Cards simply overwhelmed the Jaspers in every way possible on defense. The pressure D from Louisville at times looked like an angry swarm of Wasps attacking the Jaspers, even with Gorgui Dieng out much of the first half with 2 fouls. We all knew that defense would be a strength this year, and there was no indication last night that would suggest that was an overstatement. The Cards forced Manhattan into committing 26 turnovers throughout the game, 16 of those being steals for the Cards. Russ Smith led the Cards with 5 steals and Luke Hancock was just behind him at 4. I highly doubt there is another team in the country with a better defense than the Cards right now.
Russ Smith. "I know he's a freshman right now, but the next three years, Russ Smith will be one of the most valuable offensive players on this team, if not THE most valuable offensive player on the team." -nobody ever.
Russ was terrific on offense yesterday and I honestly do not think he made any boneheaded plays. He looked like, and was, the best offensive player on this team. He drilled four threes with confidence, was smothering on defense, and never wore down. It is very appropriate that he is wearing no. 2 for the Cards, as he is looking more and more Preston Knowles-like each game. There were several possessions where Russ was running the point, even with Peyton on the court, and he looked good doing so. That is something I never thought I would see Pitino allowing, but he seems perfectly comfortable with it. That speaks worlds of just how much Russ has improved. When asked last night who Pitino thought the team could not win without, his answer was, "Russ Smith." For a player that nearly transferred after his freshman season, I'd say he's come along quite nicely and has definitely secured a spot in the starting lineup for the forseeable future.
"Gorgui's Elbow." Will this become the new "Kyle's Korner?" Maybe…if someone could come up with a catchier name than "Gorgui's Elbow." The big man was simply automatic with his jumper, hitting one after another from the corner of the free throw line. His offensive game has clearly come along and will be extremely valuable down the line as it continues to progress. At this point, he is the best shooter the team has.
Kevin Ware. There is simply no other player like him on this team. I cannot remember a player that is as quick as Ware driving to the hoop. While I do not expect him to be a major three-point threat, it is nice to see that he is capable of hitting them, as he did yesterday. There are definitely going to be some games where he is going to have some very impressive numbers. With his length, he is a matchup nightmare on the defensive end of the perimeter and should get his share of blocked three attempts and pick off some passes. His offensive game will continue to come along, but he is already capable of taking just about anyone to the hole one on one. Scoring 10 points in only 15 minutes is impressive. Hopefully, Pitino finds a way to get him some more PT.
Stephan Van Treese. Once again, the prodigal big man makes an appearance on the "good" list. The senior power forward/center is only doing what is asked of him and more. On a day where the rebounding effort was abysmal, Van Treese was the bright spot, racking up 5 rebounds in only 8 minutes of play, along with an assist and a blocked shot. He is definitely not the most talented player on the team, but he plays to outwork and outhustle anyone he is up against. He fought for every rebound with 100% effort, and looks much improved and more fluid on both ends of the court. His fundamentals have improved tremendously, and if he is going to play like that, I have no problem with him getting more and more minutes. In any case, he is proving to be an excellent spark off the bench. I kept thinking of the the scene in Rudy where Ara Parseghian rips Jamie O'Hara, saying, "If you had 1/8th of the heart Ruettiger does, you'd have been All-American last year!" We are glad to have you, SVT.
The return of Chane. While he was not exactly the dominant force we saw in the first red-white game and definitely showed a little bit of rust, especially in the first half, he showed that this team is much better off WITH him on the court. He muscled his way to 8 points, 9 rebounds (4 of them offensive), and 3 steals in 24 minutes. Once the rust wears off, he will be the stud we all expect him to be.
Peyton Siva. There is not much more than can be said about him that has not already been said. 10 points, 10 assists, 6-6 from the charity stripe, and not getting himself in foul trouble. Can't ask for much more. While we would like to see him cutdown on the turnovers (5 yesterday) and develop a more consistent jump shot, he clearly is one of the elite point guards in the nation.
Luke Hancock's attitude. When I was originally thinking up this post about 3/4 of the way through the game, I had planned on putting him on the "bad" list once again. After all, he still looks nothing close to the player we were all told about this past summer and last season. He looks slow, his shot release is slow, and he just is not close on most of his jump shots. Commentator Drew Deener made an inaccurate statement, saying that he only hit 11 threes his sophomore season; he actually hit 23 his last year at George Mason and 11 his freshman year. He can hit the long ball if needed. Anyway, his shot was just so far off from deep, and those are shots he needs to make and we expect him to make. But you look at his demeanor and how he handles those misses, and it makes you think again. He continued to talk to his teammates, play tough defense, and never quit taking those open shots. He, then of course, drilled two in a row in the second half. There have been players in the past, when they weren't hitting the open looks would have their confidence shaken and quit taking those shots. Luke knows he can make those shots and SHOULD make those shots, so he kept at it, and it paid off. Who knows why he is struggling so far from deep. Maybe he is still getting adjusted to the dimensions of the YUM! Center, maybe his shoulder is still throwing him off a bit. You have to respect the young man's attitude, though. He is not putting his head down and pouting, and as frustrated the fans are, he is likely 100x more so. Aside from his shot struggles, he made some very nice passes and had 4 steals. Still, though, Luke…keep working on that outside shot, my man.
Free throw shooting. HALLE-FREAKING-LUJAH!!! 15-20 for 75%. We even had guys going 2 for 2 from the line multiple times! Not perfect, but much improved. Thank you!
THE BAD
Sloppy passes. This particularly pertains to the first half, but far too often did we see the Cards going for the home run downcourt pass only to have it picked off or end up out of bounds. There was very little concentration and the Cards were playing more street ball looking for the highlight reel play, rather than taking the ball up court and running offensive sets. It was getting frustrating to watch. The lob passes for alley oops were no different, as no one could seem to find a connection. This is the type of thing we can get by with against a team like Manhattan, but need to play much more composed against higher level competition like we will face in the Bahamas.
Rebounding. Granted, Gorgui was out for the majority of the first half in foul trouble, but that is still no excuse for getting out rebounded by a team once again without a significant player over the height of 6-7. I know Rhamel Brown  may look like a miniature version of Zach Randolph, but he his Rhamel Brown, a 6-7, 230 lb forward, not Zach Randolph, a 6-9, 260  lb NBA star. There is no excuse for allowing him to grab 15 rebounds when Chane Behanan and Montrezl Harrell are on the court…TOGETHER. Seriously, that is two games in a row getting outrebounded by a much inferior team on the inside. It is mainly fundamentals, like blocking out and going up hard with both hands. It is not at all a weakness, so it is nothing to panic about (yet), but it is very disheartening that they are allowing these kind of opponents to outwork them on the boards. Maybe it is because they see the size of these type of teams and do not take them as seriously (and thus give a subpar effort), but a team with Harrell, Behanan, and Dieng cannot be getting outworked like that. If they are, I have no issue putting in SVT to remind them how to work for rebounds. Pitino said he is going to have them watch film of Kenneth Faried. That is definitely not a bad idea.
Wayne Blackshear. Seriously, somebody needs to remind him how good he is. I am not sure if his confidence is shaken, his game is mentally off, or if he is just having much more trouble coming back from shoulder surgery than everyone thought, but he just does not look like the McDonald's All-American he is supposed to be, yet. He continues to miss badly from outside, although maybe the last three of the game he hit was just what he needed. Still, though, coming in, Blackshear was more regarded as a "scorer" rather than just a "shooter." Sure, he is supposed to be able to hit from outside, but he was more regarded as someone who can create his own shot, take opponents off the dribble, and pull up and the hit the short and mid range shots. His game was advertised as more like Dwyane Wade than, say, Ray Allen. So far, he has yet to show that game, whereas he was able to show it in the tournament last year, particularly against Kentucky. It is more than likely all mental at this point, but his progress will be crucial to this team's national championship hopes.
Outside Shooting. Just…wow. Yes, it did improve in the second half, and we were able to drop some in, but they were just so off for the majority of the game. For the second game in a row, we were not just missing, we were missing BAD. It was not like the shots were just rolling out or we were getting unlucky bounces, they were just wide left, off the backboard, or airballs. Here is a shot chart from the first half, courtesy of Eric Crawford of WDRB: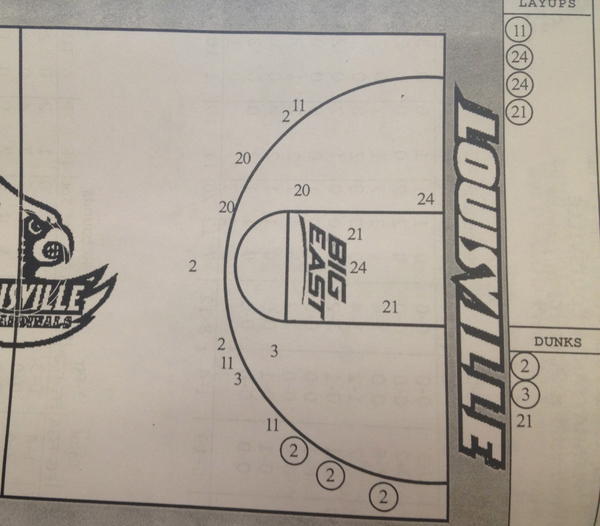 That is not good. I know we do not have anyone like Garcia, Dean, or O'Bannon that can drain three after three, but the players we have need to shoot better than this.
CONCLUSION
It is an improvement from the Bellarmine game, but this is a team that is just not quite there, yet. As Pitino said after the game, had George Beamon played, this could have been an 8-10 point game. For a team that is supposed to be #2 in the nation, more is expected. However, as it seems to be every year, Pitino teams always start out slow, especially on the offensive end. This was the team everyone thought would "get it" right away, but it appears they, too, will go through their growing pains. I highly doubt the team we saw yesterday is the team we will see in March. Just one man's opinion.
Louisville v. Manhattan - The Good and the Bad,
Comments
comments