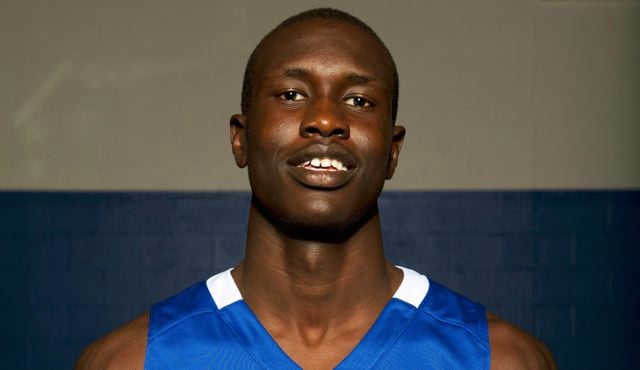 According to a press release from UofL basketball SID Kenny Klein, 6-10 Mangok Mathiang has officially been cleared to join the basketball team. He was cleared by the NCAA to begin classes this past Monday, but there was still one last hurdle to clear before being able to participate directly with the basketball team. Mathiang, originally born in Sudan, came to the United States from Australia and attended Brehm Prep in Carbondale, Illinois, for a year before moving down to IMG Academy in Bradenton, Florida. He averaged 12 points and 10 boards last season with IMG and helped lead the team to a 28-2 record. Louisville head coach Rick Pitino added this about Mangok:
"Mango is extremely quick and agile for a 6-10 player," said UofL Men's Basketball Coach Rick Pitino. "He has a great future because of the way he moves at both the offensive and defensive ends. We're excited to have him as a part of our program."
Obviously we know very little about the kid at this point. He didn't play AAU ball so none of the major scouting services have even seen him play. There's barely any mention of him at all on ESPN, Scout or Rivals. The mystery behind his skill-set is also quite intriguing. Lots of people have already – whether prematurely or not – made the comparison to Gorgui Dieng. While there's obviously some similarities (African native, similar size and frame at that age, raw ability, etc), we need to be cautious about comparing him to Gorgs too quickly. Remember, while Pitino has done wonders developing Dieng's talents, he came in as a top 50 player and was perhaps a bit further along than Mathiang. Bottom line, the staff must have seen plenty that they love about the kid, otherwise he wouldn't be here right now. And when you're fresh off a Big East Tournament title, Final Four and a top-3 preseason ranking, far be it for us to question anything they're doing. Finally, the press release stated that you pronounce his name as follows: Mang-go Math-ee-ang.
Let the Verne Lundquist-isms begin.
Louisville Officially Adds Mangok Mathiang To The Roster,
Comments
comments