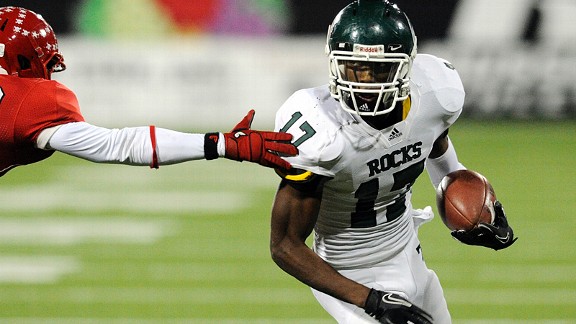 Two weeks ago Louisville, Trinity stand-out James Quick told reporters that his hometown Cardinals were likely the team to beat for his services and that they currently sat atop his short list of schools. Fast-forward to this past Saturday and, after an official visit to Ohio State, it now appears that the Buckeyes have at least pulled even in his recruitment. Ohio State hosted Quick this past weekend and the Buckeyes laid a royal beat-down on fellow Big Ten foe, Nebraska, 63-38 in front of nearly 115,000 rabid fans. Quick told ESPN afterwards, "They have great fans. That's what really caught my attention. The most impressive thing is how loud the fans got," he said, adding it was the loudest game he has ever been to. Not what you want to hear if you're a Louisville fan. He also was quoted by the Yard Barker Network as saying he "fell in love with Ohio State" during the visit. He then went on to tell recruiting analysts from Scout and 247 Sports that the Buckeyes had officially pulled even with the Cards and now were both tied for the lead in his recruitment.
Quick is perhaps the most coveted hometown recruit since Michael Bush, and has a rare combination of blistering speed and power in the open field. He's ranked as a 5-star receiver by every major recruiting service. Through his first 7 games of this season, Quick, despite multiple double-team's and zone coverages, has hauled in 34 receptions for 668 yards and 4 touchdowns. He's averaging 133.6 total yards per game. When you watch him in person with your own two eyes, it's easy to see why he's one of the most sought-after recruits in the entire nation. We've heard rumblings that Quick is Louisville's to lose as long as Charlie Strong remains the head coach. And while it certainly seems that will be the case, we've all been burned too many times in the past to ever think anything is a certainty. Furthermore, with a few of his teammates backing out of their commitments or choosing to go elsewhere (Ryan White and Jason Hatcher) and a strange recent trend in Louisville recruiting overall (where has it been? There's been zero official visitors and things are strangely quiet), who knows what the future has in store.
One thing is for certain, Louisville now has some serious competition and they'll need to turn up the heat if they intend on securing the commitment of another hometown hero.
James Quick Now Says Two Schools Are Even In His Recruitment,
Comments
comments