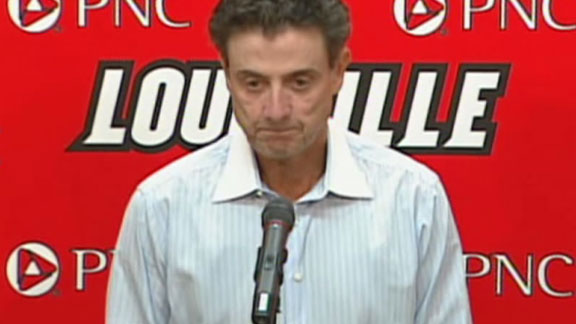 Rick Pitino wonders about that damn jersey, too
Over the last several years, a black cloud has seemingly followed the Louisville basketball program and resulted in an almost humorous amount of injuries that have restricted the team's ability to practice at full strength, create vital chemistry and provide depth in a brutal league. These injuries have come in waves and have undoubtedly cost the Cards many games in situations which it might not have otherwise been an issue. Expectations were tempered the last two years as Louisville was stuck in a bit of a rebuilding phase. However, with a veteran cast returning from a team that finished last year much better than most predicted, as well as the addition of a top-5 recruiting class, fans and the members of the program are expecting big things. But, as a few more injuries were reported over the last week, will this team suffer from the same plague that has decimated the team in past years?
Over the last week I've heard a lot of people pointing to certain players as the "keys" to this year's success. And while that does have a certain amount of truth, is it possible that the real key to the full potential of this team will be health? Is it that simple?
Perhaps.
As of right now, Louisville has one power forward that's capable of playing legit minutes in the Big East – Chane Behanan. The team will be asking a lot from the 6-7 McDonald's All-American, but surely he can't shoulder the load himself. Junior Rakeem Buckles and senior Jared Swopshire are both on the mend from season ending-injuries. Their health will be a vital part of the front-court depth that Rick Pitino has been counting on. As of right now, both are expected to be healthy by the turn of the year but Pitino has also eluded to the fact that Swopshire had to have another minor surgery last week and continues to be behind in his rehab. Buckles will return from a torn ACL, and will undoubtedly not be the same player – at least to begin the season. His progression will be key to the team's defensive and rebounding success. In addition to these veterans missing time, freshmen center Zach Price suffered a severe concussion (bringing the team's total to 4,716 over the last 2 years) last week in a freak accident, and has been held out of practices. It remains unclear whether he will play in the Bahamas this week.
As if this wasn't enough, Pitino also eluded to the fact that sophomore guard Russ Smith hurt an ankle last week and has also missed significant practice time. Then, news leaked out on Monday that senior wing Chris Smith had also sprained an ankle and was spotted on campus in a walking boot. On top of all this, freshman sensation Wayne Blackshear is still recovering from shoulder surgery and has yet to join the team. Are we starting to see a theme here?
So what is it with this program? How is it possible to suffer SO many injuries year in and year out.
I think it's a combination of a few things:
1. I can't believe it's because Pitino and his ever-rotating staff "over-work" their kids or push them any harder than most top-tier programs. These kids have to be pushed in order to achieve their maximum potential, so I've never bought this argument. What's the alternative, that we stroke their egos and tell them how great they are, all while allowing them to half-ass drills and individual work-out's? No thanks.
2. In reality, it's probably a mix of two things – a bit of bad luck (Swopshire and Dean's nagging groin issues, Buckles' ACL tear, Gorgui stepping on a freaking basketball in warm-up's before the biggest game of the year, Myles' blown-out knee, Padgett's knee cap, the 4,000 concussion's from all the various players, Tello's right foot, etc) mixed with a series of guys coming into college not physically ready to play. For instance, unless some freak accident occurs, do you really see Chane Behanan and his thighs getting hurt due to some silly injury anytime soon? Me either- and yes I knocked on wood right then……a lot. But, you do see guys like Russ Smith hurt a lot, because in all reality, were they pushed that hard in high school? Probably not. Factor that with a frail body and it's not hard to see why certain guys can't stay healthy. It's probably safe to assume that their bodies are not used to the sort of rigorous training it takes to be a big-time D-1 athlete. Some players adjust slower than others.
3. That a-hole construction worker never removed that UK jersey from underneath the Yum! Center during its construction, and the ghost of all things blew blue, haunts us on a daily basis. I personally tend to lean more towards this reality.
In all seriousness, yes, the team is suffering from yet another handful of injuries and this off-season has been just like the last 6, highlighted by copious amounts of injuries and bizarre accidents. Nevertheless, by my count, all 6 currently injured players should – I use the word SHOULD – be healthy by the beginning of the regular season. That will be a new luxury this team has not been afforded since Rick Pitino came to Louisville.
Depth and health are the two keys to this year's success, and I say it's about time lady luck was on our side for a change.
*Follow me on Twitter @BrentLSL and through our site's account @Lvillesprtslive
Great Expectations, But Plenty To Overcome For Cards,
Comments
comments