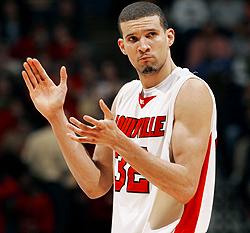 Former U of L great Francisco Garcia has once again done the unthinkable, just as he did so many times in his three-year tenure at Louisville. Due to a stellar performance in a comeback win last night against favored FYR Macedonia at the FIBA World Olympic Qualifying Tournament, Garcia has his home country of the Dominican Republic one win away from its first ever Olympic berth.
Trailing by 20  points in the first half, Garcia sparked a huge second half comeback, hitting two three pointers and scoring 8 points in the third quarter. He finished with 28 points for the game, including knocking down four three pointers and finishing a perfect 8 for 8 at the free throw line. Former Louisville guard Edgar Sosa did his part to help out as well, dishing out three assists in eight minutes.
Drafted by the Sacramento Kings with the 23rd pick of the 2005 NBA Draft, Garcia has bounced back and forth between starting guard and role player, but has been with the team his entire NBA career. While he has not been the team MVP, he has been a consistently productive player and solid teammate. After a career season in 2008-09, in which he averaged 12.7 points per game, shot just under 40% from three-point range, and averaged 30.4 minutes per game (stats courtesy of ESPN.com), things seemed to be on the up and up for Garcia. Unfortunately, fate had other plans. Prior to the 2009-10 season, a season in which Garcia was projected to be the starting small forward for the Kings, he was lifting free weights laying across an exercise ball when the ball popped. Garcia fell to the ground, breaking his arm, causing him to miss four months. While he still has maintained a productive career since then, he has never quite regained the momentum he had going into the '09-10 season.
There are few players that have donned the Louisville jersey in the Pitino era that deserve a break more than Francisco Garcia. A top 100 high school recruit, Garcia came to Louisville in 2002 a long, lanky kid from the Bronx with a long wingspan and nice jump shot. In his junior (and final) season at U of L, due to extremely hard work, a positive attitude, and excellent coaching by Pitino, he became one of the premiere point forwards in college basketball and one of the best leaders (on and off the court) that Louisville basketball has ever seen. Never one to accept defeat or shy away from a challenge, he was always talking to and encouraging teammates, gathering them together during breaks in play to discuss strategy, and hitting clutch shot after clutch shot after clutch shot. No one has quite had a pull-up mid-range jumper at U of L since Garcia. He was the ultimate leader and team captain. His leadership at U of L did not end after his final year, either. During the classic 2009 UK game (the Edgar Sosa buzzer beater game), Garcia had given the team an encouraging halftime speech, and was seen on the sidelines of the game turning around waving his arms up and down in an attempt to get the fans cheering and on their feet. Not many Cards have been easier to cheer for, and now he has his home country a win away from the Olympics.
While people in the sports media and especially UK fans will want to wrongly give Calipari credit for this win (and he has received plenty of congratulations), the fact of the matter is that it was Garcia's will to win that got this team the victory, along with his on-court leadership, pride in country, and clutch play. Of course, Calipari does deserve credit for what this team has accomplished, there is no doubt about that, but this game and this moment belong to Garcia. He deserves as much. Whether or not a performance like this will ignite a huge NBA bounce-back season is yet to be seen, but for now, this is Garcia's moment, and he is one win away from leading his team and his country from history. No player deserves it more.
Comments
comments