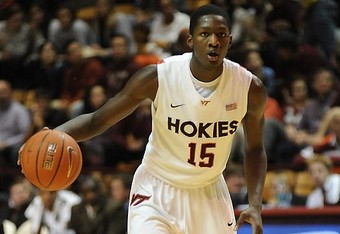 Finney-Smith leads a huge recruiting weekend for the Cards
It's raining outside and it feels / looks like San Francisco in January here in Louisville. Yep, just a typical June day. Here's some news and notes to get you through the gloom.
– ESPN Big East football blogger Andrea Adelson takes a look at the ultimate road trip game for week 14 and she's got her eye on the always intriguing Louisville – Rutgers match-up:
My pick: Louisville at Rutgers. Much already has been made about this having the potential to be a de facto Big East championship game, as both teams are expected to be preseason favorites. Louisville goes into the short week of preparation after a home game against UConn; Rutgers has a much more difficult stretch before this contest, with games at Cincinnati and at Pitt.

Keep in mind that Rutgers is 4-1 all-time at home against Louisville, though the Scarlet Knights have dropped two straight to the Cardinals. I could always double up this week and make the 90-mile drive to Tampa to see Pitt against USF as well, but right now, Louisville-Rutgers appears to be the marquee matchup. We'll see if that holds up once Nov. 29 rolls around.
– The match-up's for the annual Big East – SEC basketball series were  just released. And Louisville will play………………………………..
No one?
Thursday, Nov. 29
Marquette at Florida
Seton Hall at LSU
Kentucky at Notre Dame
South Carolina at St. John's

Friday, Nov. 30
Syracuse at Arkansas
DePaul at Auburn
Tennessee at Georgetown
Georgia at South Florida

Saturday, Dec. 1
Alabama at Cincinnati
Rutgers at Mississippi
Mississippi State at Providence
Villanova at Vanderbilt
Sure thing, ESPN or whoever created this slate of games. Seems like a smart move for sure to leave out a top 5 team. Well played.
– Louisville and UNLV are set to renew their series on the hardwood as new Rebels coach Dave Rice stated in this ESPN article:
Rice said the Rebels have signed up for a four-year series with Arizona, beginning in 2013, and are going to resume a series with Louisville, likely starting in 2013 as well.
– The Cards will also start up a fresh series with Florida International which will pit Richard and Rick Pitino against one another. Rick's had to square off against numerous ex-protege's, but this will be a first against a family member:
Rick Pitino has had many opportunities throughout his coaching career to coach against former assistants and/or former players, most recently beating Billy Donovan in the West regional final in March.

But on December 19th he'll coach against his son for the first time, as Richard's FIU squad will visit the KFC Yum! Center.

To say the least this will be a tough match-up on the floor for the younger Pitino, who has a serious rebuilding project on his hands at FIU.

Louisville, on the other hand, is expected by many to be a national title contender after falling to in-state rival Kentucky in the Final Four last season.
– NBC Sports weighs in on the big recruting weekend for Rick Pitino and his staff:
It starts with a pair of Virginia Tech defectors. Montrezl Harrell, a top 100 big man in the class of 2012 and a former Tech signee, will be visiting Louisville (who many believe is his favorite) along with Dorian Finney-Smith, a transfer that left Tech when Seth Greenberg was fired. Finney-Smith would have to sit out a year before becoming eligible.

Also on campus will be a pair of top 30 prospects from the class of 2013. JaJuan Johnson is a shooting guard from Memphis that has seen his stock skyrocket after the spring evaluation period, which was aided by the fact that he has grown two inches to 6-foot-5 since last summer. Johnson is the nephew of Louis Williams of the 76ers. Jordan Mickey, an athletic comb0-forward and a five-star recruit, may be the most highly-regarded prospect that will be in Louisville this weekend.

Joining them will be 6-foot-7 wings Kates Beita-Diop and Malek Harris, both members of the class of 2014 from Illinois.

The saying "strike while the iron is hot" is fitting in the recruiting world. When your program is on the upswing, it is important to not only get talented recruits onto your campus, but to convince them to come to your school. That's the best way to prevent your program from being on a downswing.
– Dick Vitale lists Wayne Blackshear as one of his breakout sophomores-to-be for the 2012-2013 season:
Louisville made the Final Four last season and if Rick Pitino's team is going to return, it needs a healthy Wayne Blackshear in the lineup. Plagued by a shoulder injury, he returned and showed his potential.
– ESPN's college basketball writer Myron Metcalf thinks that Louisville and Indiana would make a must-see match-up in 2013-2014. Here's his list of some other key non-conference games / match-up's that should happen:
Louisville at Indiana: Coach Tom Crean could use another border rival right now, and Louisville might be the best team in Kentucky next season. Gorgui Dieng is one of the best shot-blockers in America, and Peyton Siva and Wayne Blackshear return, too. It wouldn't have the same national spotlight as Kentucky-IU, but from a competitive standpoint, the matchup could surpass it. These are two of the toughest teams in America going into next season. If UK and Indiana can't figure things out, let's get Louisville involved. UL and IU have reportedly had discussions about a future series. No need to wait.
– 2013 New York City (Christ the King) combo guard Isaiah Lewis is contributing to Zag's Blog on an ongoing basis and in his most recent entry, he lists his top five schools as of right now. Louisville makes the cut and is the first school listed. Lewis is a currently not ranked in the Scout.com Top-100, but he's beginning to make a name for himself on the AAU circuit and has drawn interest from other big time schools like Kansas, Memphis, Florida and Georgia Tech.
**Louisville — "I really like the 'Ville. I think Coach [Rick] Pitino is a Hall of Fame coach. He knows how to win and gets the best out of his players. He is an uptempo-style coach and I love to run. The fan base is great at Louisville.
– Finally, good luck to the Cardinal Nine as they begin regional play today down in Arizona. They'll face off against New Mexico State at 2:00 on ESPNU. Here's a preview of the game to get you prepared.
Friday LSL News, Notes & Links,
Comments
comments