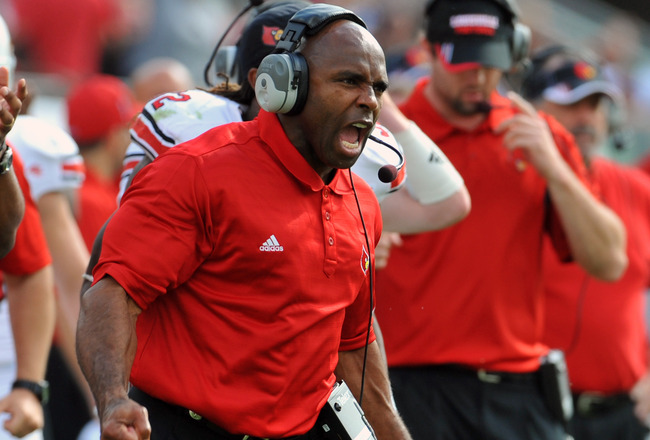 Every summer there's a few college football bibles that are absolute necessities for rabid fans across the country. First, there's Phil Steele's massive and detailed preview which usually drops in May, and then, not to be outdone, there's the annual Blue Ribbon Preview which drops in late June. This year Blue Ribbon has teamed up with ESPN to release some of their magazine on-line via the world wide leader's website and today they released their Big East preview. Louisville's own Teddy Bridgewater graced the front of ESPN.com yesterday and is the lead feature for the Cards, who are once again picked to win the conference. Here's some random excerpts about the offense and some quotes from Charlie Strong about the team and overall expectations. You can find the entire preview right here (once you click the link look on the right side of the page for additional tabs that will preview the defense, special teams, newcomers, etc.).
On the Quarterbacks:
Bridgewater completed 64.5 percent of his passes, almost unheard of for a true freshman, for 2,129 yards and 14 touchdowns. Bridgewater also proved he could run with the ball and scored four times. He has good size, a strong arm and plenty of potential. Although he did throw 12 interceptions, Bridgewater had a fabulous debut. Now, it's time for him to master the position. He must make better decisions, learn more about the offense and get better at reading defenses.

"He has become more of a student of the game," Strong said. "Last year, he was young, and he was pressed into the position. He has a lot to learn. He has to learn about defenses, and he has to learn his strengths and weaknesses."

"He has a ton of physical skills — size, speed and strength."
On the Receivers:

One of the benefits of having a young crew of receivers in a given season is that they will be more experienced the next year. That's the case at Louisville, which returns last year's top two pass catchers, sophomores Eli Rogers (5-10, 185) and Michaelee Harris (6-2, 192), and has a corps of talent behind them.

Rogers caught 41 passes and scored once last season. He's a possession man who does well in the slot. "He'll make a bunch of catches and is more quick than fast," Strong said. Harris snared 37 balls last year and scored two TDs. He is also particularly comfortable inside.

When the Cardinals look for speed, they turn to sophomore DeVante Parker (6-3, 204), who averaged a robust 16.2 yards on his 18 catches and scored six times, junior Damian Copeland (6-1, 188) and senior Andrell Smith (6-4, 219), who gained 18.8 yards on his 11 catches. "All three of them are fast enough to stretch the defense," Strong said.
On Charlie Strong and Expectations:
"They are going to hear it out there," Strong said. "They'll hear it from family and friends. The key for us is to have managed expectations. No one gave us a chance last year, and you didn't buy into it then. Don't buy into it now."

Strong may be a quiet guy, but he knows how to win. His Florida pedigree proves that. He was part of the Urban Meyer Show in Gainesville, so he knows what's expected of top teams and how much work goes into building a champion. He was happy with last year's 7-5 regular season because it kept the Cardinals in the postseason, but he knows that the type of program he wants to captain isn't close to ready in Louisville.

"We're nowhere near where we should be," he said. "We have a lot of work to do."

The good news is that the message is being delivered. The Cardinals may not be an SEC-quality contender yet, but they are improving. More importantly, they are ingesting and processing what Strong wants them to know and do.

"They're buying into it," he said. "In order for someone to buy into something, you have to have a level of success. We have small signs, but we're still growing as a football team. We're still learning."
ESPN / Blue Ribbon Magazine Preview Louisville Football,
Comments
comments