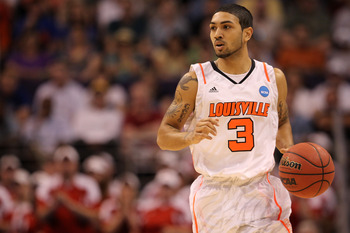 In what can only be described as an unusual method of displaying this year's candidates, The Big East conference has released their eight nominees for preseason Player of the Year, via Pinterest. I was unaware that sports had a place on this site, but apparently they're branching out from home decorating tips and extraneous botany methods. Anyway, Louisville's Peyton Siva and Gorgui Dieng both made the cut. The full list includes:
Otto Porter – Georgetown

D'Angelo Harrison – St. John's

Cleveland Melvin – DePaul

Shabazz Napier – UConn

Vincent Council – Providence

Brandon Triche – Syracuse

Gorgui Dieng – Louisville

Peyton Siva – Louisville

Jack Cooley – Notre Dame

Sean Kilpatrick – Cincinnati
Immediate take-away's:
– Louisville is the only team with two players in the hunt
– Jack Cooley is entering into his 54th season at Notre Dame
– Love Cleveland Melvin's game, but DePaul? Really?
– It's a strong list of candidates if you're familiar with the Big East, but I can see outsiders thumbing their noses at the lack of high-caliber names
– Dark Slime was shafted
The last time Louisville had a regular season conference POY was in 1993-1994 when Cliff Rozier took home the honor for the second straight season. I think it's safe to say that we're due. Though, with Rick Pitino's style of offense and the way the team spreads the wealth, Louisville teams simply don't get those 19-20 point scorers. And while it would certainly be nice to have a some notoriety come our way from getting a POY, I'll gladly take a balanced team with national championship aspirations over the individual glory any damn day of the week.
Pinterest? Really Big East?
Dieng, Siva Up For Preseason Big East Player of the Year,
Comments
comments