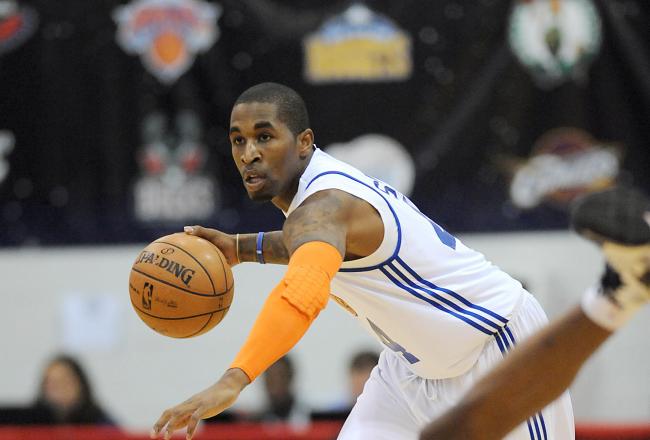 After playing on the New York Knicks' summer league team, former Louisville guard Chris Smith has played well enough to reportedly earn a contract with the team, where he will join his older brother JR. In five summer league games, Smith averaged 5.2 points, 1.4 assists, and 2.0 rebounds. This is a player many saw as a very good college player, but it is doubtful anyone predicted out of the entire team, he would be the Card to end up on an NBA roster this season. If you did predict it, then I am assuming you have the sports almanac from Back to the Future II in your possession, and we should definitely hang out. Smith's journey to the NBA is a true Cinderella story and shows that hard work truly does pay off.
Out of high school, Smith was regarded as 2-star recruit, and eventually committed to Seton Hall, the only school Scout.com lists that offered him. The other schools that were interested were Monmouth (NJ), Rutgers, Saint Peter's, and Farleigh Dickinson. Basically, no one outside of his home state of New Jersey was interested in the kid. He could be described as JR's little brother and not much more. He ended up not attending Seton Hall and instead played two years at Manhattan College. He did quite well at the MAAC school, averaging 9.9 points and 13.4 points in his two seasons there. He then committed to Louisville at a tough time for the program. His decision came in the midst of a series of bad news after more bad news. In that span of time, we found out our prized 2010 recruit Jeremy Tyler decided to play professionally overseas, we had lost to Michigan State in the elite 8, Syphergate was beginning, and Calipari was hired at UK causing a UK slobberfest by every media type in town (and out of town). Needless to say, the addition of a former 2-star guard after all this was not exactly unanimously celebrated by the fan base. Pitino had never actually seen him play and said the first time he saw him in the gym, he thought he was Samardo Samuels' or someone on the teams' friend. It was later announced he would walk on (JR would pay his way), although he did play on scholarship his junior season.
Smith's play at Louisville his junior and senior seasons shut up a lot of the doubters out there. He averaged just under 10 points a game both years and turned out to be a great leader as well. He was a stifling defender and ended up being one of the more reliable three-point shooters on the team. While he was never the best player on the team, he did prove to be a very valuable one and was a major part of this team's trip to the Final Four. Yet, while he had some very good games over his two-year stint at Louisville, he never seemed to stand out as a potential NBA player. Maybe he would have a successful career overseas if he continued to work, but at 6-2, he was undersized as a shooting guard and was not a major stat stuffer either. The NBA seemed like a pipe dream.
Yet, due to hard work, and likely with the help of his brother and Rick Pitino, he was able to earn an NBA contract. Speaking of Pitino, there is always talk of coaches who "get" players to the NBA. Most of it is fabricated BS. Coaches do not "get" players like John Wall, Anthony Davis, Blake Griffin, and Michael Beasley to the NBA. They are one-and-done talents who are forced to go to college for a year, where the coach basically moderates them. They are players who would have been top 5 picks out of high school, so no…their college coaches did not "get" them there. They got themselves there due to their superb talent. In cases like Chris Smith's, however, Pitino deserves a lot of credit here. Not to take anything away from Smith, who worked his tail off, but going from a 2-star prospect that was hardly recruited to a key part of a top 5 team's Final Four run is quite the leap. Without Pitino's coaching and involvement, it is not a stretch to say he would not be where he is at right now. While suggesting that Pitino did "get" him to the NBA is highly subjective, he definitely played a major part, certainly more than coach's who claim to "get" one-and-dones to the NBA.
It will be interesting to see what Smith's role with the Knicks will be this coming season. For a high school prospect that generated very little interest and has mainly been known as "JR's little brother," let's hope he makes the best of this opportunity and continues to prove doubters wrong and overachieve. Good luck, Chris, and go Cards!
Chris Smith Signs With Knicks,
Comments
comments