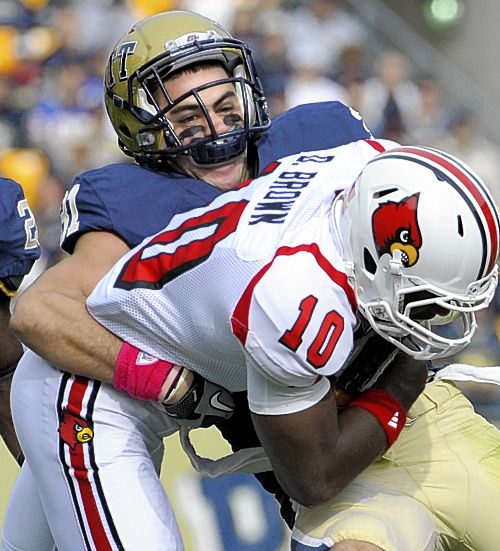 On Saturday morning at the early playing hour of 11:00 am, the Louisville Cardinals football team will take the field against the Pittsburgh Panthers hoping to do something they have not done since October 27, 2007: beat them. That was then-head coach Steve Kragthorpe's very forgettable first year on the job where the team still had talents like Brian Brohm, Harry Douglas, and several others who were apart of the previous Orange Bowl winning team. Since then, the Cards have lost from 2008 through 2011 by scores of 41-7, 35-10, 20-3, and 21-14. Needless to say, Pitt has owned the Cards for nearly half of a decade, and no games aside from the most recent one have been close. This coming Saturday, the Cards will set out to end that losing streak, and while they will certainly be out for personal redemption after losing four straight, the team has plenty more incentive to make this a statement game.
For those that have failed to notice, the Cards have looked less than dominant the past few games. They had chances to be dominant against teams like Kentucky and North Carolina, but for whatever reason, the coaching staff chose to slam on the brakes all too early. The UK game left a bad taste in the fans' mouths, and the strategy nearly (and honestly should have) cost the team the game against UNC. The two games following against mid-majors Florida International and Southern Miss, the Cards just squeaked by with wins. Bad weather was a factor in each, but the games were still too close for a team with BCS aspirations. Despite these performances, the Cards are still undefeated, ranked 16th and 18th in the Coach's and AP polls, but are beginning to slide down the Big East power rankings and are definitely not considered a lock to be the Big East representative in a BCS Bowl. This weekend is the opportunity the Cards need to remind the football world that it is the class of the Big East by taking it to Pitt early and never letting up.
Pitt is a bit of a mystery this year. There has been the Pitt team that was embarrassed at home by FCS team Youngstown State (a 31-17 loss), blown out at Cincinnati 34-10 and most recently beat by the always abysmal Syracuse 14-13 at Syracuse. That is not the resume of a team anyone, especially the 5-0 Cardinals, should fear. Then there is the team that smacked an overrated, but still solid, Virginia Tech in the mouth 35-17. They are still going through the growing pains of a new head coach in Paul Chryst after former head coach Todd Graham spit in the team's face when he announced to his players via mass text he was leaving for the oh-so-glorious job of Arizona State (really). They have the talent and have recruited consistently well for years, but just have not put it all together this year. The running back tandem of Rushel Shell and Ray Graham is one of the most dangerous in the country when properly utilized. The Cards defense has missed several tackles over the past few games and cannot afford to make those kind of fundamental mistakes against Graham and Shell or they will pay. QB Tino Sunseri has been a model of inconsistency and for the better part of his career has been flat out terrible. Yet, the one-time Louisville commit did come to Louisville last year and beat the Cards on their own turf (without Ray Graham, mind you). If the Cards do not come to play on the defensive side of the ball, an area where they have been less than stellar thus far, it could be a rough day.
The Cards were on bye week this past week, and it could not have come at a better time. It is unusual to hear so much pessimism and uncertainty surrounding a team that is undefeated and considered one of the best 20 teams in the country. Yet, the Cards have been less and less convincing each week this season, and with the continued progression of Big East challengers Rutgers and Cincinnati, the team badly needed a break to address some areas of concern. Charlie Strong, regarded as a defensive coach, and his defensive coordinator Vance Bedford have not put the defensive product on the field most were expecting. Sure, there have been some flashes. Safety Calvin Pryor has been a stud and leads the nation in fumble recoveries. Freshman linebacker Keith Brown impressed in the Southern Miss game. Others have stood out as well, but the unit has yet to put together a dominating performance as one, something they are certainly capable of doing. Pass coverage has been lacking, the 3rd down D needs improvement, and more pressure needs to be put on the opposing QB. All fixable problems. All things that were likely addressed this past week. The front seven will especially need to be at its best if it hopes to contain the two-headed rushing attack of Graham and Shell.
The offense has been less of a concern. Teddy Bridgewater was arguably playing as well as any QB in the country the first three games, including West Virginia's Geno Smith. The two-headed running monster of Senorise Perry and Jeremy Wright was looking phenomenal. The wide receivers were playing extremely well on all ends, and the offensive line, though it did struggle at times, has been productive. The last two games, however, given that they were played in bad conditions and then downright dangerous conditions and a lot of it can be excused, there was also a lot left to be desired. Still, though, Bridgewater needs to continue to play to the level of excellence we have seen, the O-Line needs to consistently protect and open up holes, and the receivers need to catch the ball. Speaking of receivers, Devante Parker appeared set for a huge game after his opening touchdown catch against Southern Miss, but one crucial drop and a monsoon later, he became quiet. He needs to be further utilized like he seemed to be in the beginning of that game. Bridgewater will hit receivers like Charles Gaines in stride almost every time on downfield seam routes, but throwing the ball up to Parker deep down the sideline seems too obvious of a play not to call. He is big, fast, athletic, and can outjump nearly anybody. Bridgewater can get him the ball, he just needs the opportunity. A lot of that will fall on Shawn Watson, too, the man who is calling the plays. His playcalling this year has been effective, but very plain and predictable at times. He needed the bye week to regroup just as much as his players did.
Of course, more than anything, the team needed the bye week to rehab from injuries. Several players seemed to experience some bumps and bruises the last several weeks, some (John Miller, Daniel Brown, James Burgess) worse than others. This was a good week for them to focus on getting healthy. Coach Strong hinted in his press conference that Dominique Brown could become available if anything happens to Jeremy Wright or Senorise Perry. Having Brown back and healthy would provide a major boost to the offense, but if Perry and Wright continue to produce, it would not be the worst thing in the world to redshirt him. If the team really wants to go all in, they could play Brown, but if it is only for a few games, why throw a year of eligibility away? It will be interesting to see if he dresses Saturday or not.
Strong admitted in his press conference, as reported by C.L. Brown of the Courier-Journal, that Pittsburgh's smashmouth style of offense will be a much welcomed change from the no-huddle offenses they had been facing. The Cards of course, will need to be able to handle the no-huddle as well and is something the team will surely address, but it appears Strong is very confident in his team's ability to handle Paul Chryst's conventional offense. It will come down to whether the Cards can match the physicality of Pitt, and they do not have the luxury of coming in overconfident or lax in any way.
Louisville is 1-6 in Big East openers since joining the conference (h/t to Card Chronicle for that note), has lost four straight to Pitt, is playing at Pitt, and has looked all too beatable the last three games. Perhaps all those reasons combined is why the Cards are being projected around only a 3-point favorite by Vegas Insider. This is an opportunity for the Cards to really put their foot down on someone. They chose not to do so against Kentucky and North Carolina for whatever reason, and as far as national perception goes, they may need to do so this weekend to display their postseason worth. Rutgers and Cincinnati are not going anywhere and should only get better. The conference is not a lock for Louisville, and going undefeated certainly is not. Laying down in the second half could potentially affect the young players' attitudes eventually as well, showing them to go hard for 2.5 quarters and then put it on cruise control the rest of the game. That cannot happen, and it likely is not the mindset of the team or coaching staff, but it certainly makes one worry. They need to put any and all of that to rest this weekend and just completely stomp Pitt. The Sugar Bowl will look a lot closer at a team that fights to the finish rather than a team that fights halfway through the third quarter and then coasts. It will also be a sweet pleasure to stick it to the school that allegedly held up the ESPN TV deal only to sneak away to the "clearly superior" ACC.
Cards Travel to Pitt Needing to Prove Something,
Comments
comments