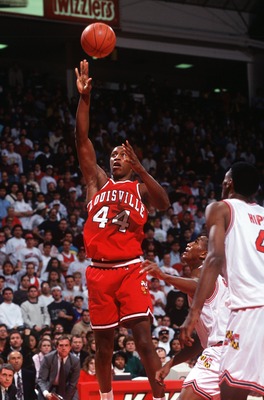 Greg Minor & Cliff Rozier were two of the best to wear a Cardinal Uniform
I saw a similar concept on Cracked Sidewalks (a Marquette Blog) several weeks back and it got me thinking about who the best tandems were in Louisville basketball history. Certainly you can go back to the Championship season of 1980 and look at guys like Darrell Griffith and Rodney McCray, or maybe Derek Smith and Darrell Griffith, or perhaps Wiley Brown and Darrell Griffith – pretty much anyone from that team and Griff would work. Or to go back even further, dynamic duos like Butch Beard and Wes Unseld from the 68-69′ squad or the Junior Bridgeman – Allen Murphy combo from the 75′ Final Four team. There's a litany of great twosomes that go back to the 50's, but for argument's sake (and to accommodate both young and old fans) we'll keep this thing to the last 25 years. The main criteria used were statistical impact, team record, and efficiency based on minutes and overall percentages. So, after looking back at the rosters from the last quarter century, here is my list of  The Top-10 Greatest Duo's in Louisville Basketball over the last 25 years:
10. DeJuan Wheat – Alvin Sims (1996-1997 season): After a successful 1995-1996 season, this Cards team was poised to break out and make some noise on the national stage. Wheat, now a senior, had solidified himself as one of the best players to ever wear a UofL uniform and his final season would be no different. He was named Honorable Mention All-American by the AP and Second Team All-American by the Sporting News and was eventually drafted 52nd overall by the Los Angeles Lakers. He finished his career second on the school's all-time scoring list (2,183) and third in assists (498). In 96-97′ he averaged 17.3 ppg and 4.3 apg and led the team with 97 made three-point field goals. Sims, one of the most steady and underrated players of the UofL 90's, was a physical, explosive athlete that captured the respect of the fans by being a complete, all-around asset. That year he went on to average 11.3 points, 6 boards and nearly 3 assists per game. The team nearly made a push to the Final Four but came up short after losing to North Carolina in the Elite Eight; they finished the year 26-9 overall.
9.  Kenny Payne – Pervis Ellison (1988-1989 season): Both players were seniors and had a National Championship on their resumes and a ton of big-time college basketball experience. They led the Cards to a 24-9 record and a Sweet 16 birth. Ellison averaged 18 points and 9 boards en route to being named a consensus First Team All-American and the eventual overall #1 pick in the NBA Draft. Meanwhile, Payne averaged 15 points and 5 boards while shooting nearly 43% from behind the three-point line.
8. LaBradford Smith – Everick Sullivan (1990- 1991 season): LA Smith burst onto the scene the previous few years and captured the nation's attention with a high-flying style that electrified not only the Louisville fan-base but college basketball fans across the country. By his senior year he had taken things to the next level by averaging 16.6 points, 5 assists and 4 rebounds per game all while shooting nearly 50% from the field. He was a two-time Metro Conference Player of the Year and eventually moved on to be drafted by the Los Angeles Lakers. Sullivan poured in 15.6 points per game and 4 boards a game on his way to being named to the second team All-Metro Conference. You could make a case that this duo deserved to possibly be higher, but the loss of Jerome Harmon, Tony Kimbro and Felton Spencer from the previous year proved too much to overcome. They finished the season just 14-16 and missed the NCAA Tournament.
7. Felton Spencer – Jerome Harmon (1989-1990 season): This was a damn good Louisville team and one that probably should  have done much more damage in the NCAA Tournament. Led by Spencer, who would go on to be the 6th pick overall in the NBA Draft, the Cards finished the season 27-8 and won both the Metro Conference regular season and tournament championships. They were eventually upset by Ball State in the second round of the NCAA Tournament. Spencer averaged 15 points and 9.5 rebounds per game and recorded 69 blocked shots on the season. Harmon, with a silky-smooth game, was on his way to stardom before eventually getting a bit sidetracked. He averaged 14.7 points, 4 boards and shot 55% from the floor in what would be his last season with the Cards.
6. Cliff Rozier – Greg Minor (1992-1993 season) : People tend to forget about the impact both of these players had in their careers. Rozier, who went on to even greater heights the following year, had his coming out party during his sophomore year. After transferring from North Carolina, Rozier was forced to sit out a year, and it did nothing but make him hungry. He would go on to be named the Metro Conference Player of the Year on his way to averaging a double-double of 15.7 points and 11 rebounds a game. As for Minor, I still stick to my guns that he's the most undervalued player to wear a Louisville uniform in my lifetime. He was the most steady, consistent ball player I had ever seen. He never did too much, and he wouldn't wow you with his game, but he did EVERYTHING well. He was a first round draft pick by the Clippers and had he not suffered a career-ending hip injury in 1999, he might have had the longest pro carer of any Card player in quite some time. During the 92-93′ season he averaged 14.6 points and 5.5 rebounds while shooting 52% from the field. The team finished the year 22-9 and once again lost in the Sweet of the NCAA Tournament.
5. Pervis Ellison – Herbert Crook (1987-1988 season): After a disastrous year following the Championship run, the 87-88′ Cards bounced back nicely. Led by the man with the funkiest jumper of all time (that thing would go behind his head and touch his back before being released) and perhaps the nation's finest big man, Louisville finished the year 24-11 before losing in the Sweet 16 of the NCAA Tournament. Ellison would once again lead the Cards in scoring (17.6) and rebounding (8.3) and Crook was close behind averaging 16.1 ppg and 6.5 rpg. I'd give my right arm if Russ Smith could somehow find some tape of Herbert Crook's J and manage to emulate the mechanics. Don't ask why, I just see it as a match made in heaven. Love you, Herb.
4.  Earl Clark – Terrence Williams (2008-2009 season): This is a tough one because the final result was not what the fans, players and coaches expected. But there's no denying the talent and impact these two had on the entire season. After navigating the regular season in what was one of the deepest and most talented conferences of all time, the 08-09′ Cards were on the verge of something huge. Led by two future NBA lottery picks, the team went on to finish the season 31-6 and they captured both the Big East regular season and tournament championships. They would enter the NCAA Tournament as the overall #1 seed. Williams, a First Team All-Big East selection was one of the most versatile players in the nation and finished the season averaging 12.5 points, 8.6 rebounds and 5 assists per game. Clark, who was just scratching the surface of his potential, led the team in scoring (14.2 ppg) and rebounds (8.7 – just edging out Williams). The team went on to lose in the Elite Eight against a gritty Michigan State squad.
3.  DeJuan Wheat – Samaki Walker (1995-1996 season): After steadily improving over the course of his first two seasons, DeJuan Wheat was unstoppable during his junior campaign. Named the Metro Conference Player of the Year after averaging 17 points, 4 rebounds and 4 assists per game, Wheat carried a team decimated by injuries and still managed to get them into the NCAA Tournament. The one constant by his side was 6-9 sophomore Samaki Walker, who finished the season averaging 15 points and 7.5 rebounds all while shooting 60% from the field. The team went 22-12 on the season and once again lost in the Sweet 16 of the NCAA Tournament.
2. Cliff Rozier – Dwayne Morton (1993-1994 season): The North Carolina transfer Cliff Rozier made a big splash when he arrived in the Ville the previous season, but in his junior campaign he took things to a whole new level. A unanimous First Team All-American selection, two time Metro Conference Player of the Year and Metro Tournament Most Outstanding Player, Rozier averaged 18 points, 11 boards and shot an incredible 61% from the field on the season. His counterpart, the homegrown Louisville (Central) product, Dwayne Morton, averaged 15 points and 4 rebounds a game and was named to the First Team All-Metro Squad and was a center piece on a team that went 28-6, winning the Metro regular season and tournament championships before finally losing in the NCAA's Sweet 16.
1. Francisco Garcia – Larry O'Bannon – Taquan Dean (2004-2005 season): You can try to flip this around all you want. You can try to take one of them out of the equation, but you simply can't. There's just no way you can say that any two of these three were more important than the other(s), etc. So, this might seem like a cop-out, but whatever. The bottom line is, without any one of these three, the 30 wins, the conference titles and the Final Four never happen.
The 2004-2005 Louisville team will live on in the hearts of fans forever for one simple reason: they took us back to the center stage of college basketball where we belong. It had been 19 years since the last Final Four appearance by a Louisville team, and Rick Pitino had finally assembled a team that could do major damage on the national scene. Francisco Garcia, the fiery New Yorker, led the Cards in scoring at 15.7 ppg and Louisville native and senior Larry O'Bannon was just behind him at 15.2 ppg. Junior Taquan Dean averaged 14.4 ppg and led the conference in three-point makes (122) and three-point field goal percentage (44%) on his way to being named the Conference USA Tournament's Most Outstanding Player. The trio would lead Louisville to an incredible 33-5 record, including the C-USA Regular Season and Tournament Championships, and eventually a birth in the Final Four.
So let's hear it……who would you throw in there that I didn't? Honorable mentions??? Leave em' below in the comments section.
Best Duo's In Louisville Basketball Over The Last 25 Years,
Comments
comments