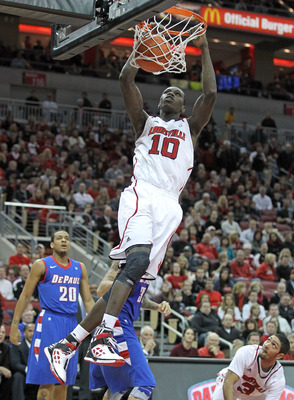 The annual Adidas Nations Camp took place this past weekend and a couple Louisville players were in attendance to serves as counselors and compete in some of the action. The actual games feature 4 teams chalked full of the best high school players in the country going head-to-head with other teams from various countries (Australia, Asia, Latin America and Europe). The counselors (made up of college players) typically hold high-level scrimmages in between games. The fine folks from NBADraft.Net were on hand to follow the action and they had some high praise for Gorgui Dieng, as well as a stern warning for UK fans assuming they have the second coming of Anthony Davis in 6-10 incoming freshman Nerlens Noel.
Day 1
Gorgui Dieng — Dieng has the most improved body. Louisville is known for bulking up players in the weight room and after 2 full years plus a summer, Dieng's body has officially become "beastly". His shoulders are showing a lot of strength and he's also making excellent basketball plays. Louisville developing first rounders? Surprise surprise.

Nerlens Noel — He had some real trouble on day one dropping a number of passes and subsequently having his hands questioned by scouts. He's a major talent, still has a long ways to go. Noel matched up at times with Austin and it was pretty even with neither getting a decided advantage but at this point Austin has a lot more offense due to his better outside shooting touch. Regardless, Noel is without question the superior athlete and prospect. Noel told me he'll head to Kentucky on August 19th and is looking forward to getting to campus.

Day 2

Nerlens Noel — Really struggled for the second straight day. He's got one elite skill and that's shot blocking but even that is in need of some refinement as he's too quick to bite on pump fakes. He is so raw offensively that even shots around the rim are an adventure unless he has a wide open dunk. Some scouts really began to question him following this showing, but it's one event and we all knew this was an unfinished product. The #1 overall hype needs to be tempered some. He still obviously has top 5 potential but that's just because of how weak this year's draft is. Anyone expecting Anthony Davis 2.0 should just stop.
In one of the final scrimmages of the day, Gorgui Dieng finished with 9 points and 9 boards, Wayne Blackshear had 8 points and 5 boards and Peyton Siva led the game in scoring and assists finishing with 19 and 9, respectively. While Siva and Blackshear obviously held their own in limited playing time (the rosters were pretty stacked), it was Dieng that seemed to impress scouts the most with his size and skill.

It's not hard to get really excited for the season ahead as Louisville should run out its best team of the Pitino-era and, if healthy throughout, should compete for a National Championship with a short list of a 2-3 other teams. The talent and depth is at an all-time high and it's refreshing to know that there's NBA caliber players back in the fold.
Adidas Nations Recap: Dieng Impresses Scouts,
Comments
comments